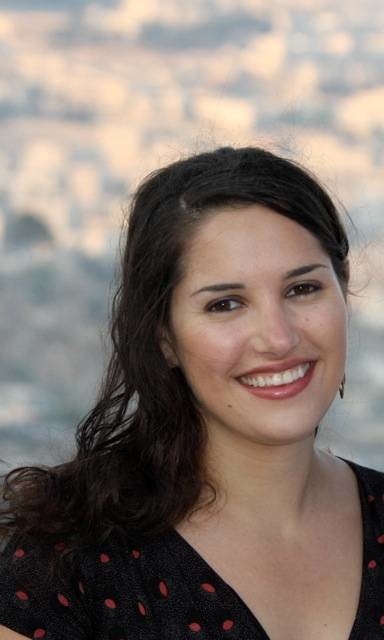 Nehama Grenimann Bauch is a gifted artist, a compassionate fundraiser, an innovator, and a relentless go-getter. Her trail of projects, conducted on behalf of Young Hadassah International, marries her passions for art, psychology, global outreach, and healing.
Born and raised in Jerusalem, Nehama had several "very personal" experiences that drew her to Hadassah's hospitals. At 18, a dear friend–Timora Avitzur z"l (of blessed memory)–succumbed to cancer after intensive treatment at Hadassah. This deep loss became a primary motivating factor behind Nehama's social activism, volunteerism, and art.
Upon completing her service with the Israeli Defense Forces, Nehama was offered an administrative position at Hadassah Hospital. "Even though I was just a secretary," Nehama recollects, "the head of the CT department made it a point to introduce me to every aspect of the hospital and treat me as an integral part of the team." She describes the hospital as "an island in the middle of Jerusalem. It is so connected with conflicts in Jerusalem, yet everyone on the inside is equal. Hadassah is about medicine and healing."
Nehama relocated to Florence to pursue her studies in the arts. While there, the Young Hadassah Italy group reached out to her, providing her with a way to remain connected to Israel and Hadassah. Given her passion for art, Nehama facilitated collaborations between Young Hadassah Italy and Terra Patria, an organization that provides economic, social, and cultural support to people in need, to raise funds through an art exhibition of original work. The money supported Hadassah outreach in Rwanda and Ethiopia, as well as humanitarian projects in Sub-Sahelian Africa. Culminating her experience in Italy, Nehama wrote her final thesis on "Hospitals, Donations, and Socially Active Art."
Now, at age 27, driven by a desire to honor the legacy of her friend, Timora, Nehama is spearheading a particularly meaningful project to mount artwork in the Intensive Care Unit at Hadassah Hospital-Ein Karem entitled the "Faraway Places Project." Working along with the head nurse of Hadassah's Intensive Care Unit (ICU), an art therapist, a generous sponsor, and a team of diligent supporters, Nehama and her committee carefully selected nine international artists to produce work for the walls of the ICU. "The aim is to help patients escape the painful realities of illness and difficult recoveries," Nehama explains. Fran Barach, a life Hadassah member, learned about the project during a trip to Israel and became determined to help. Upon her return to Los Angeles, she secured sponsorship, allowing the project to come to life. Following the mounting of the paintings, a gala is scheduled to take place in February 2011.
"I see the project as one that belongs to all of us and appreciate and thank everyone involved. There is only one thing that I would like to ask for, personally," Nehama says: "that Timora's name and memory be linked with this project, because she inspired me to pursue it."
Nehama's contributions to Hadassah do not end there. Nehama also recently donated an original piece of artwork to Hadassah International, featuring vibrant Purim masks, to use as an online e-card for the holiday. In May, Nehama and her husband will be volunteering in Ethiopia with Hadassah's Art-Joy-Love program. Looking further to the future, Nehama plans to return to school for a second degree in art therapy to explore new ways to heal through art.
For more information, please contact Young Hadassah International at younghadassah@hadassah.org.
Home | About Us | News | Calendar | Join Us | Donate | Contact Us
© 2015 Hadassah International Medical Relief Association, Ltd.
Terms and Conditions