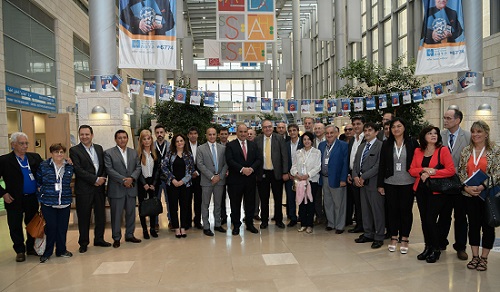 Sixteen years after a mission of Hadassah doctors to the Argentinean province of Tucuman reversed the high infant mortality rates, Governor Dr. Juan Manzur and a delegation visited Hadassah Ein Kerem in Jerusalem to thank the staff. "Today I have the opportunity to thank Hadassah here, in your home," said Dr. Manzur. The people of Tucuman still benefit from better health because of Hadassah."
Said Professor Zeev Rotstein, Director-General of Hadassah Medical Organization, "Tucuman is a great example of our medical humanitarian outreach. Currently we  have Hadassah missions in Africa and Eastern Europe. We want to help and to do it well."
In 2002 the economic collapse in Argentina caused a health crisis. This was especially felt in Tucuman, the most densely populated province in Argentina. "Tucuman became known for infant mortality rates and health problems," said Dr. Manzur. In 2003, when he became the provincial health minister and a delegation of Hadassah doctors visited to assess how to improve the situation. "I had no idea what Hadassah was, but anyone who wanted to help was welcome," said Dr. Manzur."
For over a month the Hadassah physicians toured the hospitals and clinics before presenting a plan of action to the provincial health minister.
"Hadassah's health plan was so effective in Tucuman that I later became the Minister of Health for the entire country," said Dr. Manzur. "Hadassah prevented the deaths of thousands of children. You have an important place in the history of Tucuman and I am proud to bring a delegation of 47 leading academics, entrepreneurs, and politicians to Hadassah today."
Speaking Spanish, Hadassah Professor Jose Cohen, renowned Director of Endovascular Neurosurgery at Hadassah, said, "There is no place like Hadassah in the world. The management and leaders at Hadassah give us doctors all the tools necessary to dream – and to actualize those dreams." Prof. Cohen was accompanied by Dr. Andres Vargas, a medical resident at Hadassah and native of Tucuman.
Dr. Malena Cohen-Cymberknoh, a pediatrician specializing in lung disease, presented some of Hadassah's involvement in Latin America. "The Hadassah model for treating children with cystic fibrosis is being exported to Latin America," said Dr. Cohen-Cymberknoh. "Since 2010 we have worked with Uruguay and in 2013, we began working with Chile. We hope to improve treatment for children with cystic fibrosis throughout Latin America."
Dr. Jonathan Zaga, a resident in plastic surgery from Mexico said, "At Hadassah we treat every patient. After a terror attack we treat the victims and terrorist and provide the same level of care."
"In every department, you will meet a staff of Palestinian and Israeli doctors, nurses and technicians treating soldiers and Palestinian families," said Prof. Rotstein. "Hadassah is the theater of the absurd. We are an example of how to practice peace in this conflicted region. We have been at war for the last 100 years; Hadassah is the model of how to live together for the next 100. Israel may be known for military technology, but Hadassah is leading the development of life-saving innovation."
Professor Rotstein presented Governor Manzur with a book celebrating 70 years of Israel and 100 years of Hadassah. Governor Manzur presented Professor Rotstein with a traditional teacup for drinking Argentinian tea. Following these presentations, the Argentinean delegation toured the medical center with Jorge Diener, Senior Director of International Projects at Hadassah International.
The first stop on the tour was the Irma and Paul Milstein Heart Center occupying the entire third floor of the Sarah Wetson Davidson Tower with its 32 cardiac beds, 11 intensive care rooms, and 11 post-catheterization beds. Hadassah's Heart Center was opened last month and is now one of the top cardiology departments in the world. Dr. Refat Jabara, Hadassah cardiologist, led the tour of the department. Dr. Jabara presented the world-class catheterization labs and explained how Jews and Muslims work together at Hadassah daily.
The Argentinean delegation then visited the Charlotte R. Bloomberg Mother and Child Center where they saw Hadassah's multidisciplinary school for sick children where the value of coexistence rises above all else. "The focus here is learning how to interact with someone who is different from us," said Ms. Edna Pinchover, Director of the Hadassah School. "Children from all backgrounds attend class together at Hadassah. Jewish, Muslim, and Christian children are all treated at our hospital and study in our school. Each class has a Hebrew and Arabic speaking teacher."
Concluding the visit was a tour of the Chagall Windows in the Abbell Synagogue at Hadassah. Audrey Shimron, Executive Director of the Hadassah Offices in Israel, addressed the delegation and gave a brief overview of the windows. Coqui Sosa, nephew of the famous Argentinean singer from Tucuman – Mercedes Sosa, closed the visit with the "Luna Tucumana" or "Moon of Tucuman" song under the Chagall Windows.
Sandra Mattar, wife of the governor, said, "Growing up in a Lebanese family in Argentina, I never would have imagined visiting a hospital in Israel, but Hadassah is just beautiful."