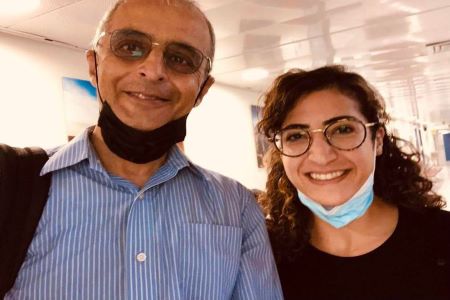 Hadassah surgical nurse Haya Subhi will never forget how being in the right place at the right time enabled her to save the life of a physician who had collapsed outside her gym. Celebrating International Nurses Day 2022, celebrated on May 12, Hadassah Hospital Ein Kerem shared Haya's story, in her own words, on the hospital's Facebook page.
It started out as a normal, ordinary day, and ended up as a day that was so incredibly special that I will not forget it for the rest of my life.

I was leaving the Cossel Sports Center in Givat Ram after a workout when, suddenly, I saw a lot of people standing around a man, who had collapsed on the ground. I asked if everything was okay, if they needed help. I explained that I was a nurse at Hadassah.

Immediately, the people made room for me. The man was lying on his side. I started to do what I was taught, what I already do almost automatically. I provided assistance. I treated him. I saved him.

Turning the man over onto his back, I checked and saw he had no pulse. I immediately began CPR (cardiopulmonary resuscitation).

I wasn't working in the hospital, as usual. I was in a completely different environment, but my mind and body knew what to do.

While I was performing cardiac massage, Bashar Jamal Ghosheh, an off-duty lifeguard who also happened to be there, ran to get a defibrillator. When he returned, we quickly connected the device, and, after two rounds of electric shocks, between which I continued cardiac compressions, we managed to get the man's pulse back.

A few minutes later, an ambulance arrived and took him to the hospital.

When I got home, I tried to unwind and recuperate from the crazy experience that I had just had. I told my family and friends that I had saved someone's life, but all the while, I wondered what happened to the man.

A few days later, the man's family contacted me. Through Facebook, they had been trying to find out who the nurse was who saved him. Friends of mine, who had heard the story from me, saw their post and made the connection between us.

We talked on the telephone, and that's when I first heard the man's name: Dr. Eliezer Be'eri. They told me that he is the deputy director of the ALYN Hospital Pediatric & Adolescent Rehabilitation Center and the head of its respiratory rehabilitation department, where he works with children on ventilators. He is also a husband and a father. I was glad to hear about the wonderful person that he is.

Three months later, I had the most unbelievable moment. It was one in a million.

I was walking in the hallway of a Hadassah hospital surgical clinic, where I am doing research, when I passed someone who looked familiar, very familiar!

Something made me approach him. I asked him what his name was, and he answered that he was Dr. Eliezer Be'eri.

I was amazed!

I introduced myself and said, "I'm the nurse who resuscitated you."

We were both very excited.

It was really a once-in-a-lifetime event.

We talked, we hugged, and we took a picture that captured the exciting moment.

I realized how extraordinary the incident had been. I was simply at the right place at the right time. It's not something that can be taken for granted.

But I'm a nurse, who, in essence, chooses to care for people and save lives every day. It doesn't matter where I do that.