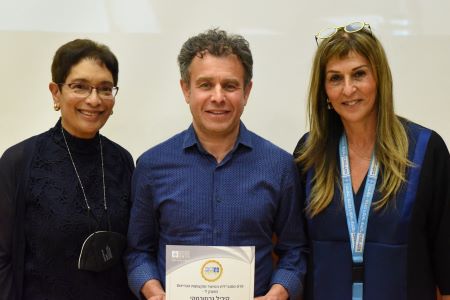 The Hadassah Medical Organization (HMO) marked International Nurses Day 2022 with a ceremony to honor the recipients of this year's "Above and Beyond Nursing Awards."
Russian-born Kiril Grozovcki, who has worked at HMO since he emigrated to Israel in 1991, received this year's Nancy Falchuk Outstanding Nursing Award. For the last 20 years, Grozovcki has been a transplant nursing coordinator. He has served on national steering committees to advance organ donation procedures in Israel and gives lectures on organ donation and transplantation at the Henrietta Szold Hadassah-Hebrew University School of Nursing and elsewhere, both in Israel and overseas.
Other nurses who received awards include:
Hadassah Hospital Ein Kerem: Eti Levy, head nurse, pediatric hemato-oncology; Tuvi Dimentman, head nurse, hematology; Louis Mahmid, neuro-thoracic nurse; Ira Palatnik, dermatology nurse; Gavriella Elter, dialysis nurse, and Benzi Novak, orthopedic nurse.
Hadassah Hospital Mount Scopus: Jacqueline Shalem, head nurse, rehabilitation; Majdi Yihyeh, internal medicine nurse; and Miri Dodi, surgical nurse.
Representing Hadassah, The Women's Zionist Organization of America (HWZOA) at the ceremony were HMO Board of Directors Chair Dalia Itzik, HMO Chair for HWZOA Dianne Gottlieb, former Hadassah International board member Shelley Kaplan, and Hadassah Offices in Israel Deputy Executive Director Barbara Goldstein.
Photo caption: Dianne Gottlieb, Kiril Grozovcki, and Dr. Rely Alon, director of HMO's Division of Nursing & Allied Health Professions