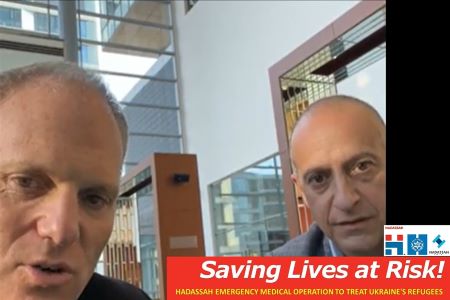 CEO of Major Jewish Umbrella Group Interviews Hadassah Representative in Poland "One Ukrainian child every second is crossing the border into Poland," Hadassah International (HI) Executive Director Jorge Diener, speaking from Poland, told William C. Daroff, chief executive officer of the Conference of Presidents of Major American Jewish Organizations, in a recent interview. "What we are seeing here is the largest humanitarian catastrophe since World War II."
In cooperation with several humanitarian organizations on the ground in Poland, Hadassah Medical Organization (HMO) physicians and nurses are helping to staff a medical clinic for the refugees. The HMO medical teams sent from Israel to Poland are supported by funds raised by Hadassah, The Women's Zionist Organization of America, and HI.
Listen to the interview.