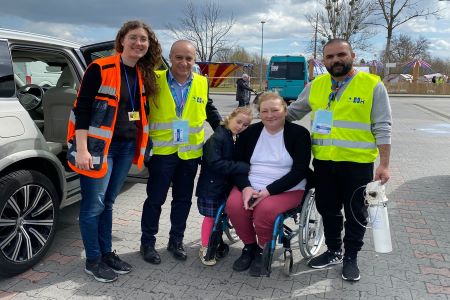 When she had the opportunity to escape from Chernihiv, the beautiful historic Ukrainian town 93 miles to the northeast of Kyiv, 46-year-old Sveta did not hesitate to take it. She was very ill, and she and her 6-year-old daughter Anastasia (called Nastia) had been living a nightmare.
Besides underlying health problems (diabetes and a heart condition), a bad case of COVID-19 two months earlier had left Sveta with a collapsed lung, and her other lung was not functioning well. She knew she had to get to a safe haven away from the fighting where Nastia would be safe and she could receive proper treatment.
After days on the road, Sveta and Nastia thankfully crossed the border into Poland and found themselves in the Przemyśl Refugee Center where for the past two months Hadassah's Humanitarian Mission has been providing medical help to Ukrainian refugees.
By the time she reached Poland, Sveta was experiencing severe shortness of breath, her legs were very swollen, and she was wheelchair-bound. She was incapacitated and could not take care of Nastia on her own. She explained to Dr. Waseem Mujahed, an emergency medicine specialist from the Hadassah Hospital in Jerusalem who had volunteered for the Hadassah Mission, that she could not take her medications (particularly her diuretic) on the road as she could not go to the bathroom alone, and there was no one to help her.
When the Hadassah team measured Sveta's oxygen level, it was about 70%, which experience during the COVID pandemic had taught us is dangerously low. Through a complex operation involving special transport and a lot of maneuvering in collaboration with the social workers of Hadassah's partner organization Natan Worldwide Disaster Relief, the Hadassah team was able to find and borrow oxygen generators to treat Sveta. They were also able to give her the medication she needed to treat her symptoms and stabilize her temporarily.
However, because the refugee center is a temporary transit facility where refugees stay for only a day or two before moving on to a more permanent location, the challenge remained as to what would happen next for Sveta and Nastia. Sveta really needed to be hospitalized as soon as possible, but her daughter could not go to a hospital with her, and they did not have any relatives, friends, or acquaintances Sveta could call on to take care of little Nastia while she was in the hospital.
Moreover, she could not leave Nastia alone in the refugee center, exposed to unimaginable dangers. Polish regulations state that a child cannot be alone in a refugee center, and the Polish social services would have taken Nastia away. This meant that Sveta would have to remain in the refugee center until such time as a better solution could be found. She would be unable to start the urgent serious treatment she could receive at a fully functioning hospital.
Hadassah International reached out to the Polish contacts who have been helping the Hadassah mission. Together they were able to find a shelter near Warsaw for mothers and children run by a very generous Polish Foundation. The shelter, with thirty beds, houses survivors from Bucha, the city near Kyiv where Russian troops massacred a large proportion of the city's residents. Although the shelter was at full capacity; they secured a place for Sveta and her daughter.
Furthermore, Hadassah's Polish friends made sure that Sveta could receive the essential medical care she needed at a hospital near the shelter. While Sveta is in the hospital, Nastia would be safe, surrounded by people who are able to take care of her while her mother recovers.
When Sveta was finally admitted into the hospital, they found that her situation had evolved to the point where her life was at risk. In-depth testing showed that she had infected fluid in her lungs, and had to undergo emergency surgery.
Sveta is now doing well and will stay in the hospital until she is fully recovered. At that time, she will be able to rejoin her beloved daughter Nastia in the shelter. They have found their safe haven.
Hadassah is doing much more than simply treating the medical needs of the refugees entrusted to their care. Hadassah is saving lives at risk, one at a time.