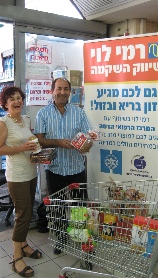 Joining forces with one of Israel's leading supermarket chains–Rami Levy Shivuk Hashikma–The Hadassah University Medical Center recently launched an innovative project to increase the sales of healthy food products by offering them at discounted prices.
Dorit Adler, Hadassah's Director of Nutrition and Dietetics, created the first basket of healthy food items. The selection will be updated every two weeks. Each product will be marked and customers will be encouraged to buy the healthy item.
"It is our duty to change the current situation in which we are forced to buy less healthy food products because they are less expensive," said Ms. Adler. "I hope that the cooperation of Hadassah with Rami Levi will be the first step in a national effort to guarantee a healthier future for Israel," she added.