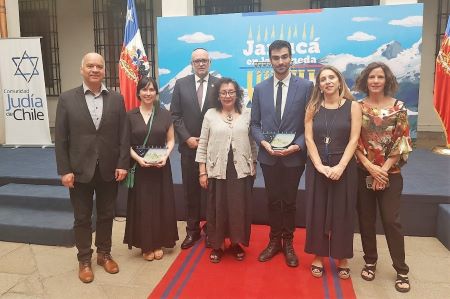 Every year the Chilean Jewish Community celebrates Hanukkah at the Palacio de la Moneda, the presidential residence in Santiago, Chile.
In 2022 the event was held on December 16th and was attended by the President of the Republic Gabriel Boric, ministers, members of Parliament, representatives of the different religious faiths and representatives of the Jewish Community of Chile, members of the Hadassah Chile board, and Fanny Ribak, Hadassah International's director of development for South America.
As is customary, the Jewish Community recognized the "Maccabi Spirit", which this year went to the team of health professionals from the University of Chile who joined the Hadassah International humanitarian mission in May on the border between Poland and Ukraine. The members of the Chilean team Danette Guiñez, Gonzalo Martínez, and Adriana Espinoza did an excellent job in this mission, demonstrating their professionalism, commitment, dedication, and above all their enormous sensitivity.
We are very grateful to the University of Chile, the Council of Chile Israel, and the Jewish Community of Chile for their commitment and support to Hadassah's Humanitarian mission in Poland.
Main photo caption: members of the Chilean humanitarian mission, together with Gerardo Gorodischer, President of the Jewish Community of Chile, Dafne Englander executive director of CJCH, and Ariela Agosin incoming president of CJCH