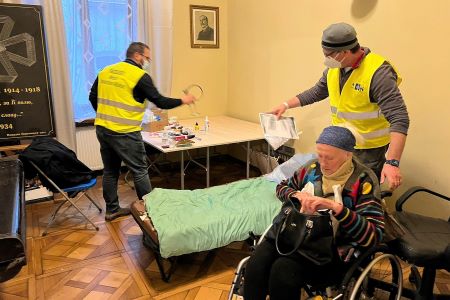 Despite the onset of war, 77-year-old Janna had no intention of leaving her home in Mariupol, Ukraine. But when the relentless bombing of her city started, she realized it was not possible for her to remain there.
Fortunately, Janna was evacuated through a humanitarian corridor. During an arduous three-day journey to the Ukrainian city of Lviv, however, she contracted a severe case of pneumonia. Arriving in Lviv, she was hospitalized and started on intravenous (IV) treatment. It seemed the war had followed her, for after seven days of hospitalization, the bombing began in that city, too. Armed with a full suitcase of IV bags filled with a broad range of medicines, including antibiotics, antifungal drugs, and steroids, Janna was discharged from the hospital and evacuated to the Polish border city of Przemyśl.
Janna was brought to Przemyśl's Ukrainian Cultural Center, which has recently been transformed into a refugee transit center. Unable to provide for all the medical needs of those finding shelter under their roof, the managers of the center, Polish citizens of Ukrainian ethnicity, had asked the Hadassah Medical Organization (HMO) Medical Humanitarian Mission to send a doctor and a nurse for one to two hours a day to provide medical care.
Sitting in a wheelchair, Janna was spotted at the center by Dr. Mohamad Hadhud, an HMO pediatrician, and Alexander Furmanov, an HMO neurosurgical and cardiothoracic surgical intensive care nurse, during their rotation there. They noticed an IV port in her arm. Furmanov, a Jewish Israeli nurse who speaks both Russian and Ukrainian, asked Janna what had happened to her and why she had the IV port. Janna explained that, before fleeing Mariupol, she was an active woman who didn't need any special assistance. She told them about her hospital stay in Lviv and her discharge in the midst of treatment because of the bombing.
The administration of such a broad intravenous regimen without medical supervision, Dr. Hadhud explains, is risky. Since Janna wasn't immunocompromised and the copy of the x-ray that she brought with her from Lviv indicated that she no longer required IV treatment, Dr. Hadhud prescribed an appropriate oral medicine, which he and Furmanov located for her.
Dr. Hadhud explains that because of the week Janna spent in bed, her muscles have atrophied so that she is now unable to stand up alone and is confined to a wheelchair. She will need physiotherapy to be able to stand and walk again.
This is not the first time that Dr. Hadhud volunteered for a humanitarian mission. In 2017, he spent six weeks taking care of Syrian refugees in Lesvos, Greece. Still a medical student at the time, he worked as a medic in the Pikpa camp, caring for children and adults with special needs, particularly the young refugees' post-traumatic stress.
He explains, "As a pediatrician, I feel an obligation to help wherever and whenever possible— especially the children. Even if this help means only a smile, already that is sometimes enough!"
Dr. Hadhud adds, "Leaving my wife, my home, my family, and my friends behind, especially during the holy month of Ramadan, isn't easy at all. But because of my calling to aid those in need, I volunteered to help the Ukrainian refugees. Taking 12-hour shifts during the 17-hour daily fast of Ramadan is the hardest part of the mission for me, physically and mentally. But nothing is more important than bringing relief and smiles to the refugees' faces."
In the course of conversation with the HMO mission team members, Janna noticed the Israeli flag on Dr. Hadhud's and Furmanov's masks. She told them that she had relatives living in the Israeli city of Ma'alot. Realizing that she was eligible to immigrate to Israel, Furmanov contacted Janna's relatives in Israel as well as Joint Distribution Committee representatives stationed at the Medyka border crossing in Poland and asked them to begin the formalities that would enable Janna to come to Israel.
As members of the HMO mission have frequently expressed during their time at the refugee centers, they don't provide just medical care; they offer emotional support and whatever other aid they can to help these devastated people heal and reach a less temporary safe haven.
Hopefully, Jenna will be united soon with her Israeli family and begin a new, healthier life.