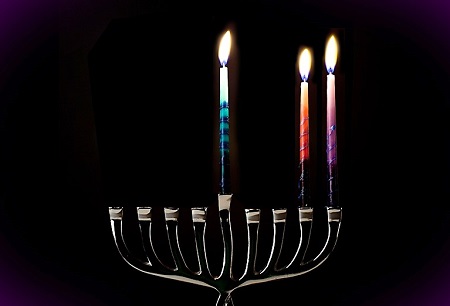 Hadassah Hospital's 2019 Chanukah Miracles: From Rocky Start to Service in IDF
Bussi, Kachanga, Zinga. What do these obscure islands on Lake Victoria in Uganda have to do with Hadassah and Hanukkah? Hadassah Medical Organization's AIDS specialist Prof. Dan Engelhard was recently alerted by a student to the fact that the children in an orphanage there were dying of AIDS.
Had this call come 15 years earlier, Prof. Engelhard wouldn't have been surprised. That's when he first visited Addis Ababa, Ethiopia, where nuns were ministering to 400 children dying of AIDS at the Mother Theresa orphanage. Back then, Prof. Engelhard enlisted Hadassah volunteers to help, supplied anti-retroviral treatment through the then-new United States Emergency Plan, and taught the local staff what to do.
Still, Prof. Engelhard knew that it wouldn't be enough. The successful Hadassah approach to combatting AIDS was multidisciplinary. In Israel, psychologists, social workers, and community guides dealt with social stigmas, school problems, and compliance issues. At Pill School, children learned to swallow their medications. For five years, a Train the Trainers program for African doctors and nurses was offered at Hadassah, so they could learn the Hadassah method. The mortality rate in orphanages dropped to one percent. The good news spread.
Still, in 2019, the HIV/AIDS treatment revolution had not reached the remote Lake Victoria islands, where the prevalence of HIV/AIDS was still as high as 40 percent. Traveling fishermen were reportedly spreading the disease. Prof. Engelhard used his contacts to get these overlooked children into a regimen of lifesaving care.
In this season of commemorating miracles, Prof. Engelhard shared a story with Barbara Sofer, public relations director of the Hadassah Office in Israel. It is about one HIV positive child who was given a chance to have a quality life by an Israeli woman. As a baby, she had been adopted from Europe, but when her adoptive parents learned that the agency had not disclosed that she was HIV positive, they abandoned her. It was then that an Israeli single mom adopted her and enrolled her in Hadassah Hospital's multidisciplinary treatment program.
Today that little girl, who was born with a deadly disease and abandoned twice, is a healthy young woman in a fighting unit of the Israel Defense Forces. And this Hanukkah, for the first time, the boys and girls of Bussi, Kachanga, and Zinga have hope because of a Hadassah doctor.
Doing his job wasn't enough for Prof. Engelhard. Like many of Hadassah's staff, he carries forward the Hadassah volunteer spirit and brings light to the neediest in Israel and to the darkest parts of the world.
Prof. Engelhard and his team have brought light and life to thousands of children in Israel and tens of thousands—-maybe hundreds of thousands—in Africa.