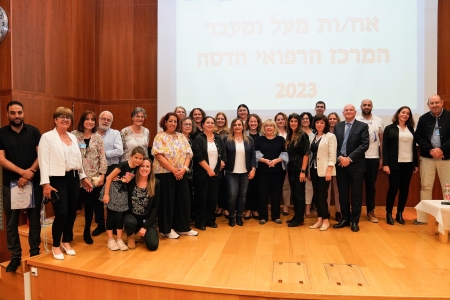 It's always a good time to honor the invaluable contributions nurses make to our health care and to the well-being of patients the world over, but especially so in May when we mark International Nurses Day. This year the Hadassah Medical Organization (HMO) in Jerusalem honored nine nurses at HMO for their dedication, their inspiration, and their hard work day in and day out.
The Nancy Falchuk Nursing Leadership Award went to Polina Peker, who is responsible for providing and advocating for professional development in nursing. She joined HMO five years ago to teach best management practices to senior nursing staff.
"This award makes me want to work even harder," she said.
Speaking via video, Nancy Falchuk, past national president of Hadassah USA, praised Peker for her "integrity, inspirational leadership," and "for helping make the world a better place."
Above and Beyond Awards were given to the following outstanding Hadassah nurses:
Alexandra Cohen, a head surgical nurse at Hadassah Hospital Mount Scopus
Magdi Abu Yonis, a head nurse in the Internal Medicine B ward at Hadassah Hospital Ein Kerem
Sigalit Cohen, a head nurse in Ein Kerem's Ophthalmology Department
Michal Cohen-Nora, a nurse in the new Maternity C ward at Mount Scopus
Miyary Yones, a pediatric nurse at Mount Scopus
Davida Nissim, a daycare oncology nurse at Ein Kerem
Rinat Forster, a neonatal nurse at Ein Kerem
Avital Dotan, a nurse in the Ein Kerem surgery recovery room, who joined the Israeli delegation to help rescue survivors of February's earthquake in Turkey
Rhoda Smolow, Hadassah national president, told recipients that Henrietta Szold would have been delighted to attend the ceremony. "I am proud to present these awards to you," said Smolow. "You have gone beyond your shifts and beyond your responsibilities to make unique contributions to your patients, to Hadassah, and to your profession. You are superheroes who wear scrubs…I offer you our deep gratitude. Mazal tov."
Hadassah Offices in Israel Executive Director Suzie Patt Benvenisti attended the event with HMO Board of Directors Chair Dalia Itzik.
"You are the front line," Itzik said. "You are the face of the hospital. All of you."