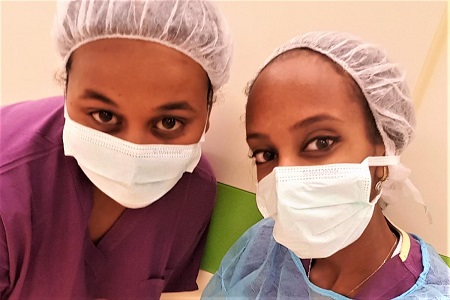 Hadassah's National Nurses and Allied Health Professionals Council invites you to attend via zoom the graduation ceremony for the first cadre of Ethiopian-Israeli students to complete the Achotenu Nursing Scholarship Program. It will take place on Wednesday morning, June 23 at 3 pm Israel time.
The Achotenu program, launched by Hadassah, The Women's Zionist Organization of America, with funds from a bequest to Hadassah by nurse-entrepreneur Patricia Lapin, together with the Henrietta Szold Hadassah-Hebrew University School of Nursing and the non-governmental organization Jobkatif, provides an alternative pathway for Ethiopian-Israelis to earn a baccalaureate degree in nursing.
Given the shortage of nurses in Israel, this initiative is playing a vital role in addressing the need for nurses in the country, as well as providing ethnic and cultural representation among the state's nursing professionals.
Hadassah Australia is proud to have adopted Achotenu's fourth and fifth cohorts. "Achotenu offers a direct and impactful way of addressing the needs of a disadvantaged community in Israel while at one and the same time filling an identified serious gap in Israeli health care," relates Hadassah Australia president Ron Finkel. "How good it is that two positive outcomes come from the one program."
View the graduation ceremony at:
https://huji.zoom.us/j/86913542086?pwd=YjhoUWNyOHNpSUtEUkRJcWk2ZEJVQT09
Meeting ID: 869 1354 2086
Passcode: 353609
Find out more about the Achotenu program here.