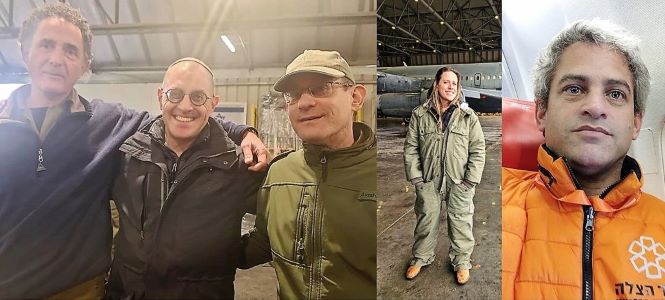 Three days after the horrific earthquake on the Turkish-Syrian border, a team of Hadassah medical personnel arrived in Turkey as part of an Israel Defense Forces and Ministry of Health medical relief mission. They set up a field hospital to aid survivors of the magnitude 7.8 earthquake and the serious aftershocks that further devastated the region.
The doctors from Hadassah are Dr. Marc Romain, an intensive care physician with expertise in nephrology and anesthesiology; Dr. Yuval Maroz, an anesthesiologist; Dr. Avraham Alpert, an emergency medicine specialist; and Dr. Itai Basel, a pediatrician.
Accompanying them is Hadassah recovery room and intensive care nurse Avital Dotan. Before leaving Israel, Dotan wrote, "I woke up at six to the news that the delegation was leaving. I had an hour to organize the children and pack for two weeks for myself. I was lucky that my father offered me a ride and agreed to take the kids to their daycare and school. My husband is overseas right now."
"It was so cold this morning. We had to organize, pack medical equipment, including ventilators, hospital beds, and medicines, check inventory and make sure everything was in order many times. There were changes in flight times, updates from the field. We had about an hour to sleep before the journey that would take us to the unknown. . .  . In a few hours we'll be providing help. Good luck to us all."
According to Prof. Yoram Weiss, director general, of Hadassah Medical Organization, "Hadassah medical relief teams will always go wherever in the world they are needed. In the past year, Hadassah doctors and nurses provided significant assistance to refugees from Ukraine by establishing a Hadassah clinic on the Ukraine-Poland border, saving lives with professional and dedicated care. They will do the same in Turkey, giving their all to help earthquake victims by contributing their experience as part of the Israeli delegation."
For a vivid description of Dr. Basel's experience rescuing a young girl from the ruins, click here.