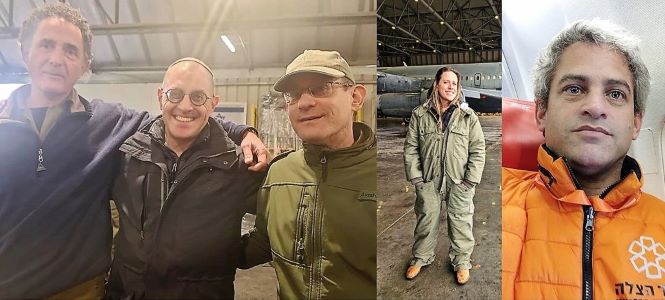 Hadassah internist Dr. Marc Romain tried hard to get into the IDF Search and Rescue Brigade. When he made aliyah from South Africa 11 years ago, his own medical issues made him unfit for military service. But the Search and Rescue Brigade wouldn't include 20-mile hikes or parachuting, and, as an intensive care doctor and nephrologist, he thought he could contribute.
At last, he was accepted. And then the worst earthquakes in nearly a century hit Turkey and Syria. His unit would be shipping out.
After two days of waiting for clearance during which they slept on the floor of Ben Gurion airport, the IDF team flew at night to Turkey. By then, the team members, from all over Israel, already knew each other and what their experience could contribute. With Dr. Romain was senior anesthesiologist Dr. Yuval Meroz and intensive care nurse Avital Dotan. Emergency medicine specialist Dr. Avi Alpert, an IDF major, was the commander of the emergency department of the field hospital.
Both Drs. Meroz and Alpert had taken part in previous rescue missions, but for Dr. Romain and Dotan, this was their first foreign rescue trip with the IDF. (It was also a first for Hadassah pediatrician Dr. Itai Basel, who went to Turkey as part of the United Hatzalah team. See his story here.)
"That first night, we couldn't see the wreckage," Dr. Romain said. They built pup tents. It was very cold and they woke with frost but ready to work.
The staff of a nearby regional hospital had left to care for their families. "We in the IDF team needed to revitalize the hospital," said Dr. Alpert, who had taken part in previous rescue missions to the Philippines, Nepal, and Romania.
Walls were cracked, dried blood stained the floor, electricity and water supplies were disrupted, and debris needed to be removed. Scrubbing and swabbing needed to be completed before the first patient could be treated. The medical team set up their own quarters in empty patient rooms and assembled a supply of army rations and clean water. A Turkish hospital administrator helped them, as they chose to open an emergency room. They set up an intensive care unit on the fifth floor near the operating rooms. The equipment went up the stairs on their backs.
"The first patient arrived—dehydrated and distraught from the days of fear and isolation," said Dr. Romain.  And then others kept coming—fractures, crushed limbs, frostbites, dehydration. "A team from Turkish Airlines came to help translate. One of our team knew Persian, which is similar to Turkish. And as soon as they could, the Turkish staff returned."
Despite the dearth of water, Dr. Romain managed to hook up a temporary dialysis machine for a patient.
When the reserve unit called Dotan to join the team flying to Turkey after the earthquake, her husband, an electrical engineer, was abroad on business. She'd have an hour to pack. Dotan wanted to go but with four young children, she needed backup. Fortunately, her family had made aliyah from Silver Springs, Maryland, and they moved into her home so she could go.
"It was cold, and it was scary. I was afraid because I'm a mom and have children at home who need me. But as soon as we set up an intensive care unit, I took care of a boy whose feet had turned black. By the next morning, he was drinking cocoa and going to be all right. I knew I'd made the right decision."
"I'm a people person," Dotan said. "I knew I could help physically and mentally despite the language gap. We saved one little boy who lost his parents and his uncle came. He was just crying, 'Anne, Anne'—that's Turkish for mommy. I told the uncle to get into the bed just to hold him."
Another patient told a tragic story of being trapped in her apartment, a wall away from her trapped brother after a festive night of cooking together. They communicated by tapping until his side went silent. The team of diggers found him first, dead. The sister was revived but overwhelmed by grief.
The IDF team treated some 500 patients, 150 of them children.
Dotan and all the other Hadassah staff, now home with their families, say they're glad they went. Said Dr. Romain, "Despite the difficulties, it meant a lot to me to fly in an IDF plane, to wear an IDF uniform as I worked, and to be part of such an amazing team of Israelis, colleagues with only good in their hearts."