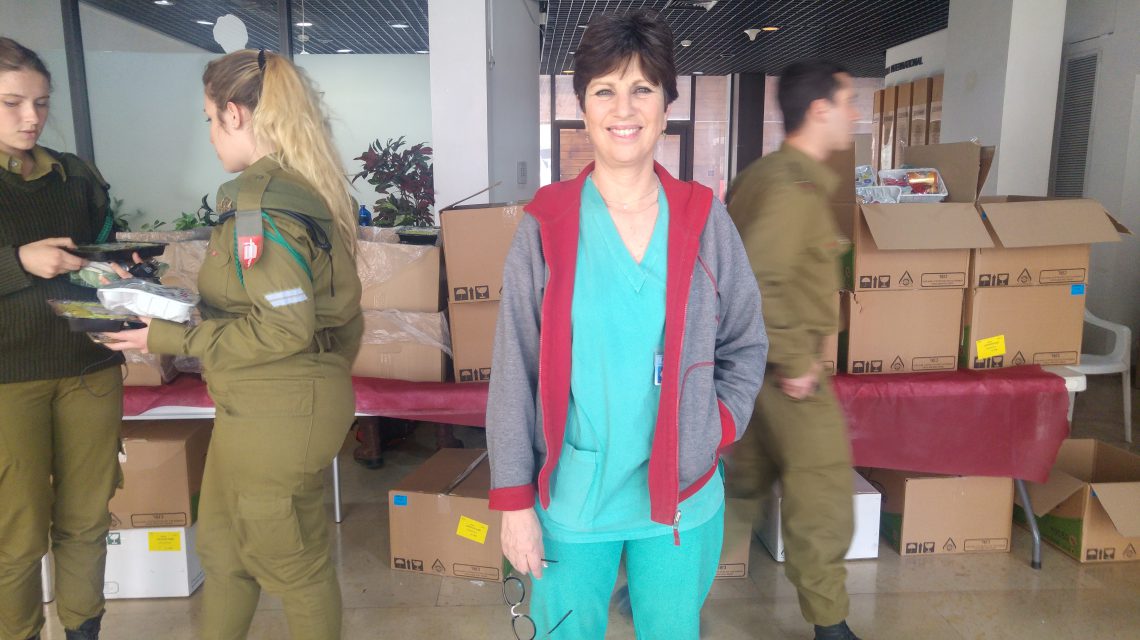 Two hundred Israel Defense Force (IDF) medic and paramedic trainers gathered at Hadassah Hospital Ein Kerem for an in-service study day in March with the Hadassah Medical Center's renowned specialists to improve their abilities to prevent and treat injuries.
 "Even though all of these medics and paramedics are trainers of others, explains HMO Trauma Coordinator, Academic Consultant, and Nurse Julie Benbenishty, Ph.D., "they don't get to see actual patients." Therefore, she says, "we developed a study program where, in groups of five at a time, they spend an intensive week training at HMO in the emergency room, operating room, trauma center, and recovery room."
The program includes a system for honing their observational skills. "For example," Benbenishty relates, "I'll ask them to name four steps emergency room nurses will take to provide security and privacy for their patients. They have to do the best they can to provide both while treating a soldier in the field." Another important lesson the program teaches is to provide reassurance by talking to patients to prevent post-traumatic shock. "If they don't talk a patient through a crisis, it's as bad as letting him or her bleed to death in my view," says Benbenishty.
During the training day, experts in emergency medicine, orthopedics, ophthalmology, and neurosurgery updated the soldiers and addressed issues they have encountered. For example, HMO Spine Specialist Dr. Josh Schroeder explained how soldiers can prevent and treat back problems. In addition, test cases were presented to the medics, who will have to make diagnoses under field conditions.
The training day was organized by Benbenishty, together with Critical Care Expert and Surgeon Dr. Assaf Kedar. A graduate of the Hebrew University-Hadassah Henrietta Szold School of Nursing, Benbenishty served as a lieutenant in the IDF. Born in the United States, she immigrated to Israel out of a Zionist commitment while she was still in high school. "My parents thought I'd outgrow it and come right back," she says. "They were wrong."
Benbenishty earned her expertise in trauma working at Hadassah, where she has taken care of thousands of trauma patients, many of them victims of terror attacks. She was recently dispatched to Tanzania by Israel's Ministry of Foreign Affairs to train nurses there. Together with Nurse Naela Heik, she is a founder of "Nurses in the Middle East," which promotes understanding through nursing. As its mission statement explains:
"Nurses in the Middle East is an Israeli-Palestinian joint organization to promote regional health and connect nurses to each other, regardless of political, ethnic, or religious identity. We seek to encourage nurses to be ambassadors of caring and, through patient care, create communities of compassion and understanding. While our political systems have built borders and checkpoints, we insure that care has no boundaries and carries no identification card.
"Through outreach, nursing exchange, education, and research, we build lines of communication throughout our region and the world."