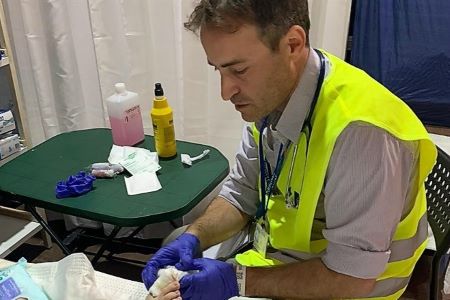 As thousands of Ukrainians fled their worn-torn homeland, the Hadassah Medical Organization quickly organized a medical humanitarian mission to travel to the Przemyśl refugee camp on the Ukrainian-Polish border, where they established a medical clinic in cooperation with the World Health Organization, NATAN Worldwide Disaster Relief and the Polish health authorities. Fifteen rotating Hadassah delegations, including physicians, nurses, and even a medical clown, provided thousands of refugees with medical treatment and a compassionate ear. In recent weeks Hadassah International (HI) recruited additional volunteer medical teams from partnering hospitals and medical organizations in Argentina, Chile, Mexico, Poland, and Switzerland to work in the clinic.
 "Many of the refugees," explains HI Executive Director Jorge Diener, "did not receive proper medical treatment on their difficult journey to Poland." One such refugee was Alexandra, a 10-year-old girl, who limped into the clinic in terrible pain. For two months, she had been suffering from an ingrown toenail, which caused a severe inflammatory condition in her foot, making it impossible for her to put weight on it.  Alexandra had been crying practically non-stop for weeks.
"The mother told us that no one wanted to operate on the girl under the non-routine, complex conditions of the refugee camp," relates Dr. Omer Or, a Hadassah onco-orthopedic surgeon, who was serving his first shift at the clinic when he met Alexandra. After examining her, he realized that it was impossible to postpone the surgical procedure any longer.
Dr. Or continues, "I collected the appropriate equipment that we had in the clinic, thanks to the donations raised from Hadassah supporters all over the world. I prepared a sterile field, and, no less important, I explained to the girl and her parents what I was going to do."
Dr. Or performed the surgical procedure under local anesthesia and bandaged the area to maintain a sterile environment. He gave Alexandria antibiotics to prevent a postoperative infection.
"The most amazing moment for me," recalls Dr. Or with a smile, "was when the girl's eyes filled with tears as soon as I finished the surgery. She and her mother did not stop thanking me for the treatment that finally, after months, stopped the severe pain in her foot."
Three days later, Alexandra returned to the clinic for a check-up. The surgical site looked great; it was healing well.
 "We will remember you forever, for the rest of our lives," Alexandra's mother told Dr. Or. "You reached out and helped us when we needed it most when our daughter could not cope with the terrible pain anymore. We did not see any light at the end of the tunnel. Thank you very much, Dr. Omer. Your kindness will continue to accompany us on the path that awaits us going forward. You are an inspiration."