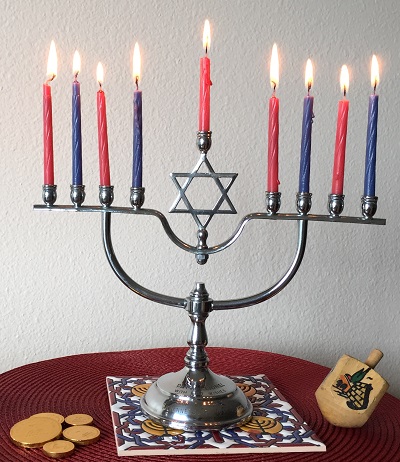 Hadassah, saving lives over 70 years ago and today: Hanukkah Miracle # 8
The 8th and last day of Hanukkah has a special name: Zot Hanukkah, which means "This is Hanukkah." According to tradition, this is a good day to have our prayers answered.
Margalit Fried, aged 92, was the last speaker at a recent event devoted to studying the British detention camps on Cyprus between 1945 and 1948.  Born in Germany, Fried and her four siblings were among the children rescued by Henrietta Szold and Youth Aliyah in 1938, and taken to a youth village near Haifa.
Fried grew up to be a Hadassah nurse, and in 1947 got permission to volunteer with the many babies being born in Cyprus, where 52,000 Jews, mostly Holocaust survivors captured on Israel-bound ships like the Exodus, were put behind barbed wire after World War II and before the State of Israel came into being.
"It was a shock," she recalled. "At Hadassah Hospital, everything was sterile. Here 60 babies and 120 parents were crowded into a space so small that there wasn't even light. On that first day she overheard a conversation about a very sick baby. The doctor and nurse in charge wanted to call an ambulance so that the baby wouldn't die in the Baby House and cause a riot.
Fried impulsively volunteered to care for the baby. Although she didn't speak a common language with the young couple from Hungary, she convinced them to pass over their baby into her care. "There's no time to waste," she said. For the next three days, she sat in a storeroom, and fed him water with a teaspoon because there were no bottles. She washed him and built a bed from a carton. "Finally, he stopped throwing up. The Baby House was noisy, but when people came near that room they whispered. Everyone knew something holy was going on." Two weeks later, she returned the baby to his parents, and someone slipped another baby into her arms.
What was the baby's name? She had no idea. "There were so many babies," she said.
There was a stirring in the audience. A stocky man, announced as Meir Weiss, came onto stage. A father of three, Weiss, now 71, is the proprietor of the Weiss Bakery in Herziliya, famous for cheesecake and Hungarian frosted rum cake, and yes, Hanukkah donuts. He was the baby Fried saved. When he wrapped the petite nonagenarian nurse in his baker's arms and sobbed, so did audience.
Let's feel proud of all that Hadassah has done and continues to do to save lives. Part of the blessing said while lighting the Hanukkah candles refers to "in times past and today." The 8th candle… Zot Hanukkah … reminds us that miracles don't happen in a vacuum. We have to make our efforts on earth. Hadassah efforts.
May all our prayers be answered!
By Barbara Sofer
Israel Director of Public Relations
Hadassah, the Women's Zionist Organization of America