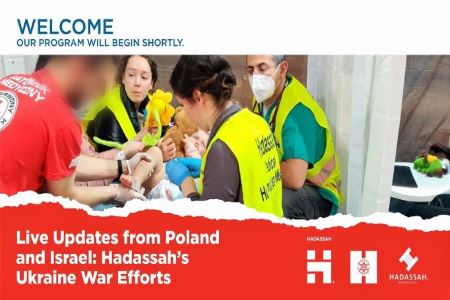 By now, 4 teams from the Hadassah Medical Organization (HMO) have traveled to the Ukrainian-Polish border town of Przemyśl to assume a leading role in caring for the Ukrainian refugees fleeing the bombings in their home cities. Ukrainian refugees are seeking a safe haven in Israel. Teenagers are being welcomed into Hadassah's Youth Aliyah villages.
In this video update, some impactful leaders in this highest form of tikkun olam, repair the world, share their thoughts and experiences. Here's a preview:
Naomi Adler, chief executive officer of Hadassah, The Women's Zionist Organization of America (HWZOA): "Where people are at their most vulnerable, Hadassah steps in."
Prof. Yoram Weiss, acting director-general of HMO: "We realized we could not stand aside. Our humanitarian mission is the centerpiece."
Jorge Diener, executive director of Hadassah International (HI), reporting from the refugee center in Przemyśl: "We are at the big arc of the humanitarian crisis, with an increasing number of more desperate refugees arriving after enduring almost a month of the war."
Dr. Meir Cherniak of the HMO team: "Treating the children's stress is a complex problem. Sometimes just playing soccer with them for a while helps. This time at the refugee center has been my greatest experience as a doctor and as a human being."
These Hadassah humanitarians and others tell you about some of the patients they've treated, family members they are worrying about and the help they are providing.