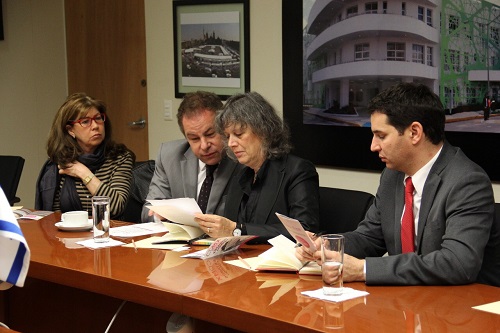 Prof. Esti Galili-Weisstub, Founder and Director of Hadassah's Jerusalem Crisis Intervention Center, arrived in Mexico today for a week-long on-site intervention to support the efforts in Mexico to deal with the psychological effects of the magnitude 7.1 earthquake that hit Mexico on September 19th.
Her visit to Mexico was initiated by Hadassah International and the Hadassah Medical Organization who offered this unique support to the Mexican authorities. Thanks to Hadassah International's strong presence in Mexico and its solid partnership with leaders of the Jewish Community and Mexican society in general, this initiative became a joint venture of Hadassah, the Central Committee of Jewish Organizations in Mexico and Cadena, the rescue and relief arm of the Jewish Community.
The Jewish Community and Cadena have been very active since the earthquake. They have been working with the Mexican organizations who have been looking for survivors and dealing with the immediate needs following the tragedy.
From the moment the rescue operation ended, one of the major challenges has been to deal with the psychological effects and the trauma experienced by those people who have lost their homes, their loved ones and their sense of where they are.
It is in that context, that the arrival of Prof. Esti Galili represents a big contribution for the Mexican society.  Her know how and long standing experience in dealing with this kind of situation in countries around the world is exactly what is necessary at this point.
Indeed, one of the biggest tragedies during the September 19th earthquake was the collapse of a Primary School in Mexico City, where 20 children and 5 adults died, while the rest of the students survived with different levels of physical injuries.
During her time in Mexico, Prof. Galili's will share her highly developed methodologies in dealing with the consequences of traumatic events in children and adolescents, including early diagnosis, screening, immediate psychological care and long term follow up.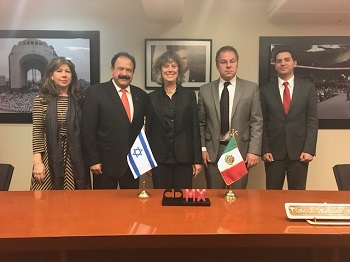 The Secretary of Health of Mexico City, Dr. Armando Ahued, a good friend of Hadassah, is meeting with Prof. Galili today. Together they will develop a working plan that will include not only her intervention this week but a long-term collaboration between Hadassah and the City of Mexico.
Prof. Galili will address and provide training for the team of psychologist that are working directly with the victims of the earthquake at different locations and institutions. During these meetings, Prof. Galili will evaluate the needs in her area of expertise and design an intervention plan.
She will be also working with the National Institute of Psychiatry and the UNAM, National University of Mexico where both professionals and volunteers are counseling children and their families. In addition, she will be addressing school teachers and counselors from Jewish and non-Jewish schools at the Hebraica University of Mexico.
But most importantly, Prof. Galili will join Mexican psychologists and counselors in treating first hand children and families who have been impacted by this terrible earthquake.
Her presence in Mexico has been warmly welcomed, and all participants in this partnership are expecting that this initiative will help provide hope and a full psychological and mental recovery for those Mexicans who have been impacted by this terrible earthquake.
Photo Above: R to L  Vice Ambassador Alon, Prof. Esti Galili, Carlos Glatt, Ethel Fainstein
Prof Esti Galili  shows brochures on PTS at Ministry of Health