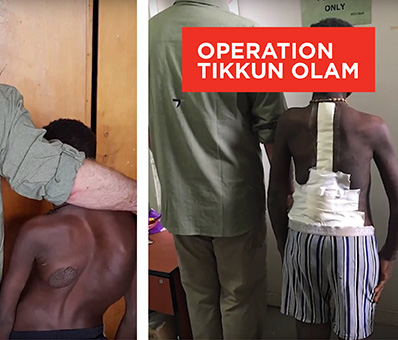 In March, the Hadassah Medical Organization (HMO) embarked on a groundbreaking humanitarian effort, one that would bring lifesaving spinal surgery procedures to children in Ethiopia who suffer from extreme cases of spinal abnormalities. If not treated, these conditions can lead to permanent deformity, disc injuries, neurological damage, and even death.
These children needed something close to a miracle. HMO sent a team of eight doctors, two nurses and a physical therapist to help, embodying the Jewish value oftikkun olam (healing the world) as they conducted their work.
HMO's commitment to healing the world provides world-class aid where it's needed the most.
Meet Mebrat and Fano
Sixteen-year-old Mebrat was in severe trouble. In just six months, Mebrat's back had gone from a 45- to a 70-degree angle. If it reached 90 degrees, she would face life-threatening pneumonia, as the extreme curvature would block her lungs. Thanks to HMO's intervention, her four-hour surgery was successful. Mebrat can now stand straight again — at least two inches taller!
Sixteen-year-old Fano had a life-threatening back deformity. HMO surgeons reshaped his back, a process requiring hundreds of pieces of equipment. Following surgery, he could once again move all his limbs. Although he faces a lengthy recovery, he will walk straight and now faces the future with hope.
"These cases were so bad that if we [had not] operated on these children, at least half of them would be dead by next year," said HMO spinal surgeon Dr. Josh Schroeder.
Hadassah International embodies tikkun olam through our support of the Hadassah Medical Organization's worldwide humanitarian outreach. We need your help to fully fund Hadassah's hospitals so that we can continue to build bridges to peace through medicine, providing humanitarian aid from Israel to those in need worldwide.
Our work is vital. Please give so we can save and improve lives worldwide.
Join our efforts. Please make your lifesaving humanitarian gift now.
Read more about this remarkable mission.
International@hadassah.org
www.hadassahinternational.org