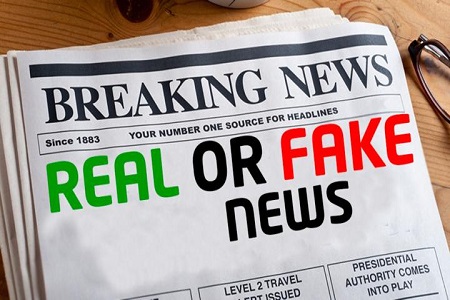 Sometimes it can feel like we're drowning in emails, texts, and articles about COVID-19. On the one hand, the Hadassah Medical Organization's Linda Joy Pollin Cardiovascular Wellness Center for Women notes, it's imperative that we obtain accurate information to protect ourselves and our families, but how can we know what's right and what's fake news?
The phenomenon of messages in the media containing incorrect or totally false information is a constant burden in our daily lives, but it's even more prevalent and more dangerous during a major health event such as the COVID-19 pandemic. "Fake news" messages could pose a danger to us, to those around us, and to public health in general, not to mention raising the level of anxiety that is already extremely high. We all have a responsibility to think twice before we disseminate information, first making sure the facts are reliable.
How do we do this? We first need to find out where the information came from. Is it from a reliable and professional source, such as the Centers for Disease Control (CDC), or a respected health care organization? If we're not sure, it's best to look at the CDC website, where all the latest and most reliable information can be found. Trustworthy information is also available on government and hospital websites. It may be possible to turn to health professionals that you know and trust, such as your family doctor, pharmacist, or nurse, for the most accurate instructions. In general, it's advisable to treat the information transmitted on WhatsApp or Facebook with suspicion. The information may have been partially cited, taken out of context, or outdated.
During this most stressful of times, let's take a deep breath before we stress over every message that we receive on social media and act responsibly as we disseminate information. And please keep safe: Wear a mask or face-covering in public places, wash your hands after any contact outside the home, and maintain social distance.