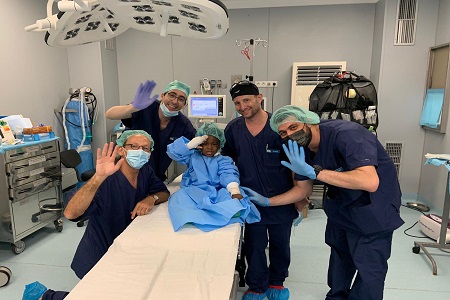 An Israeli medical delegation flew to Equatorial Guinea last week to assist the local population after massive explosions in the military camp Nkoa Ntoma killed over 100 people and injured hundreds. Buildings in this compound of Bata City, the country's economic center, and houses in surrounding districts were destroyed.
Among the 67-member delegation was Hadassah Medical Organization senior surgeon Dr. Asaf Kedar, who spent eight days in the African country. "I was the trauma specialist on the team," he relates. "We treated multiple injuries, many on arms and legs. There were so many children. One four-year-old girl, Marielle Rose, particularly touched my heart. Her sister was in intensive care, and, when we took off Marielle's bandages, we saw that one of her arms was totally infected. Despite her serious condition, we managed to treat her wounds and leave her in good condition."
Dr. Kedar, who has four sons, including a four-year-old, adds, "I thought of my children often as I dealt with these injured children without the facilities that we have in Israel." For Dr. Kedar, joining the team was a no-brainer. "I felt that it was my mission as an Israeli to go. I also knew I could put my surgical skills to good use with the injured. My wife, a gynecologist, also felt it was important for me to go and supported me."
The Israeli team of 67 people included members of the Israel Defense Forces (IDF) Medical Corps and the IDF Home Front Command, along with civilian medical workers sent by the Health Ministry, all dispatched to boost emergency care in the former Spanish colony of a million and a half citizens.
Unlike most other teams who either brought equipment or sent medical staff, the Israel team arrived with all the medical supplies the team would need, as well as the largest delegation of medical staff. The Israelis worked 10-hour shifts every day in three different hospitals.
Dr. Kedar returned home to Israel in time to reunite with his family for Shabbat. "There is always so much you can do, but I have a feeling of satisfaction that we made an important contribution," says Dr. Kedar.