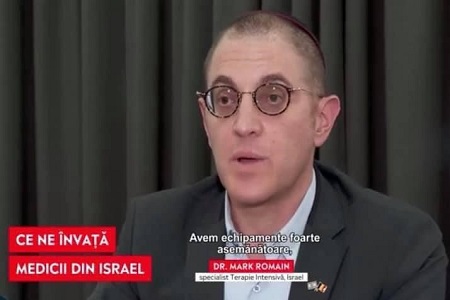 The scene before his eyes reminded him of the images shown on television from Italy at the beginning of the COVID-19 pandemic: overflowing emergency rooms, patients slumped in chairs waiting for beds, and death all around.
"It was a very challenging position to be in without rolling up your sleeves to help," says Dr. Marc Romain, a senior Hadassah intensive care physician, and nephrologist, who took part in a recent COVID-19 government mission to Romania. "That's not why we came. We were asked to question and observe, and to use our experience to make short-term and long-term recommendations to ameliorate the situation."
Now back in Jerusalem, Dr. Romain will be sending his suggestions for treating the COVID-19 patients in Romania, the European country with the highest rate of mortality from COVID-19. Romania is confronting its worst wave of infections since the pandemic started, with 500 deaths a day and over 10,000 new infections every 24 hours.
Preceding the arrival of the Israeli team were 40 oxygen concentrators, which were transferred through the Israeli Embassy in Bucharest. The Israelis brought their own protective clothing to stay safe.
Dr. Romain and his delegation of Israeli colleagues, which included three doctors, a head nurse specializing in COVID-19, and a logistics expert, met with local doctors, nurses, and administrators to share their experiences of best practices. Their report will provide in-depth suggestions for dealing with the crisis going forward.
The Hadassah Medical Organization has treated the greatest number of COVID-19 patients in Israel, and Dr. Romain has worked throughout the pandemic in the COVID-19 Intensive Care Unit.
"In Israel, we have the advantage that the internal medical staff is trained in dealing with the ventilators that are an important part of COVID-19 treatment," he says. "This also prevents the bottleneck in the Emergency Room, where staff isn't trained to treat these patients for a long period of time."
Dr. Romain explains, "We are preparing an organized report relating to logistics, care options, and medical training. We hope to be part of an ongoing discussion as well as ongoing educational ventures to help our colleagues in Romania."
There are no magic bullets for COVID-19 care, Dr. Romain emphasizes, noting that expert intensive care offers the best hope of stabilizing these patients. "The best advice of all is to be vaccinated," he says. Vaccination rates in Romania are low, and, despite the death rates, falling further.
This is Dr. Romain's second visit to Romania. In 2013, he was flown in a medical plane to Bucharest to bring back to Israel David Finti, a 19-year-old activist in the Romanian Jewish community, who was in critical condition after being electrocuted. His life was saved at Hadassah Hospital Ein Kerem, and Finti is currently completing medical school. To read more about David's story click HERE.