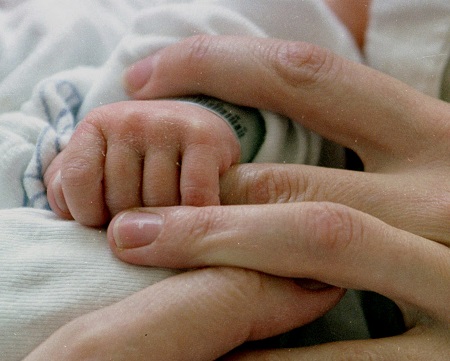 "For as long as I can remember, I have wanted to be a nurse," says Sarah Posner. It took her until her 40s, but for the past four years, Posner has been living her dream at Hadassah Hospital Mount Scopus.
To make that dream even sweeter, her daughter Adi, who has special needs, also works on the Mount Scopus campus as part of National Service, a volunteer alternative to being a soldier.
And that's just the start of the story.
The second of four children, Adi began her Hadassah journey sooner than anyone expected. When Sarah was seven months pregnant, she went into labor. That event, 21 years ago, was the start of the Posners' relationship with Hadassah Mount Scopus.
"Adi brought me to a world I'd never seen," says Sarah. "I walked into the neonatal ward and all I saw were 'miniature dolls' lying in incubators. The staff work so hard there. It was life changing."
Born in England and educated in Israel, Sarah worked for 16 years in software project management. However, she always wanted to go to nursing school.
"When I registered for the program, I went out for lunch with my mom and said, 'I'm leaving my job.' She said, 'I know what you're going to do.' She knew exactly, even though we hadn't spoken about it for years."
After qualifying to be a nurse, Sarah began her new career in the same neonatal department where she had previously been a frightened mom.
"I could feel what the mothers were going through," says Sarah. "Not everyone could."
For the last year, Sarah has been on staff in the orthopedic clinics.
Adi is working in the neonatal department on the top floor of the Mount Scopus tower, with its breathtaking views overlooking the Jerusalem Hills.
"I chose to work here because of its special significance to me," says Adi, sitting on a hospital bed in her work uniform.
Adi helps the nursing staff while also looking after the new parents.
"I really enjoy being here, spending time with the staff," says Adi. "They do a good job."
At that point, Sarah interjects, "If they didn't do a good job, you wouldn't be here."
Sarah is very proud of Adi's accomplishments throughout her school years and now her work for Hadassah.
"I feel like I've completed the circle," Adi says, smiling.