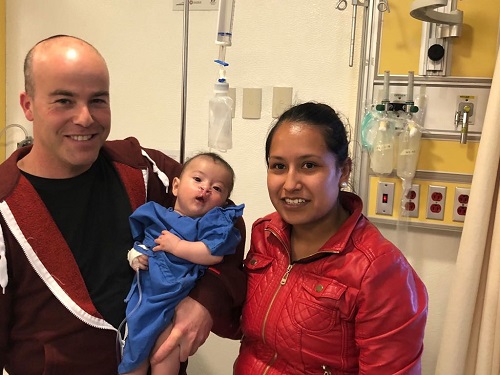 In Zacatecas, the smiles of 25 children will change as doctors from Mexico and Israel operate on their cleft lips and palate.
FRESNILLO, Mexico. As an altruistic contribution to give back to their native country, Mexican doctors Raúl Esparza Iturbide and Alejandro Medina returned to Mexico after studying as Plastic Surgeons in Israel. Headed by Dr. Eyal Winkler, a group of 5 Israeli doctors treated 25 girls and boys with cleft lip and palate.
Promoted locally as "Surgical Cleft Lip and Palate Day", from March 5 to 9, 2018 the doctors scheduled interventions for five children per day at the General Hospital in Fresnillo.
In an interview with correspondent Sthepany Villegas of the El Heraldo de México, the Zacatecano Raúl Esparza Iturbide, commented that during the two years he had been working with Dr. Eyal Winkler, he had proposed going to the city of Fresnillo. The idea excited Dr. Winkler, and plans were made. They were joined by Nimrod Farber, Sharona Czerniak, Iair Shachar and Noam Armon, doctors from the Hadassah Hospital in Jerusalem and the Assuta hospital in Tel Aviv, Israel.
Shown in the photo above is Prof. Noam Armon, the chief plastic surgeon of Hadassah who actually performed most of the surgeries.
Dr. Esparza explained that the process of patient recruitment was carried out by Dr. Manuel Hernández, a Maxillofacial Surgeon and local Fresnillo physician. Dr. Hernández conducted the studies to accept the patients and made the preoperative arrangements.
Raúl Esparza commented that returning to contribute something to the city from which he originates, "Gave me great personal satisfaction. From the first day I could see how the mothers smiled and cried with emotion and welcomed the doctors from Israel. It was very emotional. "
Surgeon Alejandro Medina, who is originally from Mérida, Yucatán, expressed his satisfaction in working with the team from Israel to benefit these children. He mentioned that in previous experiences doing similar work in other countries, doctors found instances where the children are shunned. Many of them had never left their own house when the doctors visited them the first time, because a cleft lip was considered to be a punishment for the family. The doctors did not see this kind of ostracism in Mexico.
Dr. Eyal Winkler, said that this project of performing free surgeries, is more than 20 years old, and started in Germany when he first went to operate on poor children in the mountains of Nepal.  "I enjoyed it so much, I decided that as a plastic surgeon, I was making enough money through surgery to be able to afford to make trips every couple of years to places to help children where they need it most".
"The important thing for me is to get to know the local team, to mix with them, to cooperate, and to make friends. Here we have found a good team. It is a great hospital, and together our cooperation has allowed us to work at the same level ".
Winkler said that if doctors Medina and Esparza invited him to return to Mexico to do these surgeries again, he would be happy to do so. He stated that for his next trip he plans to return to Africa, but has not yet decided which country.
"The thing is that when you go to a country, people think that the local doctors are not good enough, and that's false. A lot of people try to give themselves credit for this work. We come to help, and we found a lot of support from the local hospital and the authorities. Some cases are very difficult and I have to ask for support from colleagues in Israel, but the goal is to continue to travel around the world providing help, "said the Israeli medical leader.
Adriana Flores Fausto, the mother of 6-month-old Mateo who had surgery on his cleft lip, travelled from a community in the municipality of Jalpa for this operation. She said she was satisfied with the result of the surgery, since her baby had been struggling to eat and had to receive special care. When Mateo, (who is her third child) was born, she knew that this problem was hereditary since his father also suffered from a cleft lip and palate. She said that she had had mixed feelings before and during the operation, because both she and Mateo's brothers felt sad to see him enter the operating room at 6 months of age. However, she had the satisfaction of knowing that her baby will no longer need the same kind of care as he needed before surgery.
Pablo, 9 years old, feels ready to go home after his intervention. He wants to play soccer and ride his bike, which is what he likes most. His mother, Norma Angélica Castro Ibarra, says she appreciates the work of the doctors. Not only did they support the family by providing the operation for free, but they also provided daily meals, which was a great help. Angélica said it was Pablo's second surgery. After seeing the incision, she realizes that he will have a quicker recovery this time. "And if he is happy, I am twice as likely to see him," she said. She knows that they will have to continue with speech therapy, so that after this intervention he can improve his diction of words that he could not say before. Pablo, who was not convinced he wanted to go back to school before the surgery, said he now he would like to go to school, because in the future he would like to know more about the country where the doctors who treated him came from.
To read the original Spanish article, please go to https://heraldodemexico.com.mx/estados/en-zacatecas-cambiaran-sonrisas-de-25-ninos/