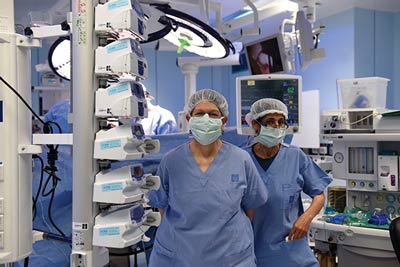 A physically, cognitively, and emotionally challenged middle-aged man was brought to the Hadassah Hospital Ein Kerem Emergency Room (ER) from the Israel Elwyn residential community, where he has lived for decades.
His live-in helper couldn't restrain him as he threw himself on the floor, screaming and writhing. "We had to get him into a bed, find out what was wrong, and treat him," relates ER Head Nurse Pnina Sharon. "Other patients and their families assumed we were abusing him and began shouting at us. Severely challenged patients need a special protocol when coming to the Emergency Room. They can't wait and they often can't say what's hurting them."
Nurse Sharon was addressing her audience of over 100 nurses and other medical practitioners at the recent Conference for Accessibility in the Emergency Room for Developmentally and Cognitively Challenged Patients, which was hosted by Hadassah Ein Kerem.
The little-discussed subject was brought to the national agenda by a class of first-year nursing students at the Henrietta Szold Hadassah-Hebrew University School of Nursing. Spending time within Jerusalem communities and evaluating needs as they see them with fresh eyes is a unique part of their curriculum. "We deliberated as to whether placing young students in such an emotional environment as a community of severely challenged adults was too tough for them," said Dr. Miri Rom, Dean of the Nursing School. "We decided that our students were up to it and the results have proven that we were right."
The student reports led to this conference, which was encouraged by members of the Knesset who deal with issues of accessibility. The conference yielded a concrete protocol, to be initiated as a pilot project at Hadassah Hospital in three months.
Under the new protocol, every patient who is part of the Elwyn Community of challenged adults will be fast-tracked through the emergency process. The ER nursing team will be informed that an Elwyn patient is on the way to the ER. To head off panic reactions, each patient will come with a "Traffic Light" folder, prepared by the community staff. This will include not only general medical information, but also specific triggers such as sensitivity to loud sounds or light.
At least half of the challenged community members are brought to the ER each year, and 70 percent of them need hospitalization. Medical conditions related to aging are often exacerbated by their inability to report early symptoms or their extreme lack of mobility. Every visit can turn into a trauma for patient, staff, and others in the ER.
"It's a pilot and we will refine it and make it standard practice for the larger challenged communities," relates Tamar Shoshan, Director of Community Nursing and Student Coordinator. "Results will be reported to the Knesset," she adds. "If our pilot works, it will probably be adopted by hospitals nationwide and draw international attention."