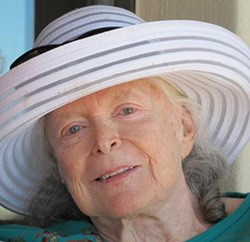 A nurse, real estate developer, philanthropist, and pilot, the late Patricia Wahl Lapan wanted to ensure that tuition costs and university expenses would not derail students who want a career in nursing. Toward that end, she left a bequest to Hadassah, the Women's Zionist Organization of America (HWZOA) to establish the "Patricia Lapan Hadassah-Hebrew University School of Nursing Scholarship Program" at the Henrietta Szold Hadassah-Hebrew University School of Nursing (HSON).
"This gift is a game changer," comments Dr. Miri Rom, Dean of HSON. "To remove the financial challenges from student tuitions and state-of-the-art educational development," she says, "is a dream of any academic institution. We thank the Lapan family for its extraordinary decision as we rise to the challenge to creatively empower the nurses of the future."
Launched in the fall of 2014, the Lapan nursing scholarships are available for a wide range of educational advancement. Nursing students–both in Israel and from abroad–at the beginning of their studies or pursuing advanced degrees or specializations are eligible for these scholarships. Awardees will be able to pursue a baccalaureate degree in nursing, a clinical master's degree, or a PhD in nursing at HSON, as well as post-basic courses and research ventures. In addition, college graduates can take a registered nursing course to pursue nursing as a second career and nursing school faculty can apply for continuing education assistance.
To date, three sets of scholarships have been awarded. In the first, 9 nurses were subsidized to specialize in operating room nursing and 15 in intensive care nursing. "In order to staff the new operating rooms of the Hadassah Medical Organization's Sarah Wetsman Davidson Hospital Tower, as well as maintain full use of the existing ones, we critically needed more nurses trained in these specialties," relates Nancy Falchuk, a founder of Hadassah's National Center for Nurses Councils and Past National President.
The second set of scholarships went to 15 nursing department heads to attend a one-year Senior Management course, giving them the most advanced education in management skills aimed at achieving the highest quality care. And, most recently, 18 Ethiopian students were awarded scholarships to pursue careers in nursing as part of a program entitled Achotenu.
Ms. Lapan, who passed away in 2012 at the age of 84, left home at the age of 16 to study nursing, ultimately earning a master's degree in the field and serving on the faculty at the University of California, Berkeley. Later in life, she pursued a law degree and ran her own equity fund. She also became a pilot.
To her son, Dr. David Lapan, Ms. Lapan's bequest to Hadassah simply made sense. "She was a nurse, always liked Hadassah, and was all about education, hard work, and taking advantage of opportunities. She wanted to provide opportunities to others."
The bequest will distribute well in excess of 15 million dollars over 25 years for nursing scholarships. In announcing the bequest at Hadassah's 2014 National Convention in Las Vegas, Lisa Lapan, granddaughter of Ms. Lapan and daughter of Dr. Lapan, related: "My grandma wanted her legacy to be providing education and giving back, and I know she would be so proud to hear and see the amazing things Hadassah will do with her gift. For 20 years, she read Hadassah Magazine from cover to cover and it influenced her decision to give to Hadassah and to nursing. On behalf of my grandma and the entire Lapan family, we are thrilled to be supporting the incredible nurses of Hadassah, present and future."
Mrs. Falchuk notes: "The significance of the Lapan gift to incentivize, retain, and attract nursing students, nurses, and nursing faculty and make them feel supported and valued is enormous. It is a win-win for nurses, the Hadassah Medical Organization, and the Lapan family in fulfilling Patricia Lapan's vision to help others fulfill their dream to become nurses and to fortify the nursing profession with a cadre of high-level nursing leadership, not only for Hadassah, but for the entire country."