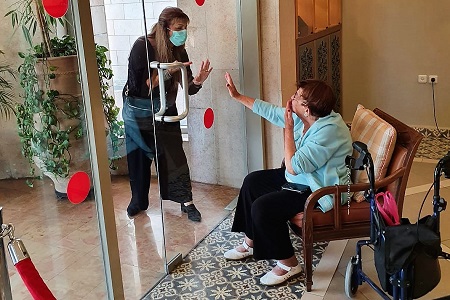 Rely Alon, PhD, the Hadassah Medical Organization's deputy director for nursing and health professions and the daughter of Holocaust survivors, gets her determination to save lives from her resilient mother.
Alon has been in charge of the nursing efforts in the COVID-19 outbreak units since before Israel's first coronavirus patient was identified. Whenever she gets weary, she thinks of her mother, Chana Blumlich, who, through faith and determination, survived the Holocaust, became a beloved nursery school teacher, established a family, and is still a source of optimism for her daughter. Her mother's resilience was a prime factor in Alon's decision to become a nurse. a midwife, and a leader.
Here is her mother's story, told today to Barbara Sofer, Hadassah's Israel director of public relations, on the eve of Yom Hashoa, Holocaust and Heroism Remembrance Day:
Chana was 3 years old when the Nazis occupied Poland, and her parents managed to flee from Warsaw to Siberia. When she was 4, she remembers the icy cold as her mother stood in line for potato peels to feed the family.

From Siberia, the family fled to Tashkent, Uzbekistan, and camped in the train station, where their remaining possessions were stolen and where Chana came down with typhus. She was hospitalized and remembers that no one ever came to visit her, nor afterwards when she was placed in the first of many institutions—first Moslem, then Christian and Russian.

Chana was given a Christian Russian name and knew that she must not reveal her identity. When the war was over, she went daily to the head of the orphanage to insist her name be changed back, arguing that if her parents looked for her, they wouldn't find her with this new name. Finally, the principal agreed and she got her name back.

Gathering the war orphans from different hiding places and institutions, the Russians put them on a train back to Poland. Chana, now sick with malaria, was placed in a car for sick children. She was 8 years old. An older girl, who was helping with the sick, noticed that her last name was the same as a healthy girl in another car. When the blond, blue-eyed healthy 9-year-old came to see Chana, she didn't recognize the sickly dark-haired child as her sister. When Chana failed to remember their mother's name, the sister asked for more proof. Chana showed her the birthmark on her belly that she'd always thought was an ugly blemish, and the sisters were united. They were among the children whom Rabbi Isaac Herzog helped bring back to pre-State Israel, where, after a long and circuitous journey, they arrived in Haifa. The sisters, each with only the dress on her back, were taken in by Youth Aliyah.

"We were given not only food and clothing, but the confidence that we could start new lives," says Chana. "I remain forever grateful."

Despite the dangers getting to Jerusalem, the young girls found a home in Youth Aliyah, one of the many Youth Aliyah villages then supported by Hadassah, the Women's Zionist Organization of America.

Chana married Holocaust survivor Yohanan Meller, and they brought up three daughters. The oldest is Rely, whom she speaks with daily. Like all senior citizens, the 84-year-old Chana is now in "elder isolation" because of the coronavirus restrictions, and she can't be with her daughters for Holocaust Remembrance Day.

"You can see that my roots of wanting to protect mothers and children and to save lives, like those of many of my colleagues at Hadassah, run very deep," says Alon. "Being tired or giving up just isn't an option."
One of Israel's few nurse practitioners, Alon came to Hadassah Hospital Ein Kerem from Assaf HaRofeh Hospital in Beer Yaakov, where she directed the Henrietta Szold–Hadassah Hebrew University Nursing Extension and headed up the Women's Health Center of the Maccabi Sick Fund. After receiving her Bachelor of Arts degree in nursing from Tel Aviv University in 1997, she earned a PhD in gender studies from Ramat Gan's Bar-Ilan University in 2015.
While her overall research has focused on women's rights, women's health, and health education, Alon's PhD thesis provided a sociological, anthropological, and psychological perspective on men being treated for infertility in Israel. In contrast to previous research that focused on women undergoing fertility treatments, her research attempted to understand how ultra-Orthodox, religious, and secular men differ from one another in the way they deal with infertility treatments, based on their cultural and social backgrounds.
Alon, the mother of three children, met her husband, an Argentinian-born physician, while hitching a ride from the hospital.
CAPTION: As close as they can: Rely Alon and her mother, Chana Blumlich, meet through glass, prior to Holocaust Remembrance Day.