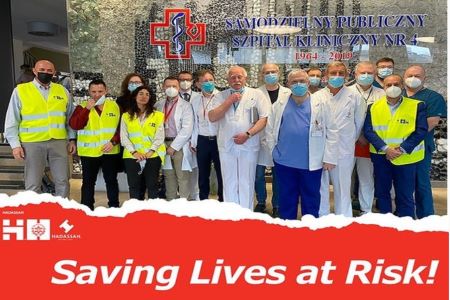 With only 48 hours on-site, the three physicians—Dr. Shaul Beyth, Dr. Asaf Kedar, and Dr. Yaarit Ribak—comprising the Hadassah Medical Organization (HMO)'s initial humanitarian mission to Poland have already had a major impact. "You see the despair on the refugees' faces," notes Dr. Beyth, "but when they hear the name Hadassah and that we have arrived to help, the people breathe easier because there is someone to rely on."
In a collaborative March 9 webinar hosted by HMO, Hadassah, The Women's Zionist Organization of America (HWZOA), and Hadassah International (HI), Dr. Beyth explained that there are three objectives for their "voyage to this near-war zone": to establish connections with their peers in the Medical University of Lublin, the city's largest hospital, just 70 miles from Poland's border with Ukraine; to assess the needs of their Polish colleagues in providing trauma services to the refugees; and to support the refugees with basic humanitarian care. "They have no money, no food, no warm clothes, no medications," Dr. Beyth related. And this small delegation has already begun meeting these objectives.
Dr. Kedar explained that their Polish medical colleagues have told them that there is a big gap in their ability to deal with a mass casualty event, as millions of Ukrainian refugees cross the border into Poland. They have expressed a need for training in disaster preparedness—a need Hadassah is prepared to meet.
"We assess day by day what needs to be done," explained Dr. Ribak. "More doctors will arrive from Hadassah next week."
Jorge Diener, HI executive director and part of the delegation, commented, "We in Hadassah were created for moments like these—to bring healing to a world in distress." He added, "If we make a difference in the lives of these refugees who are suffering so much, we are doing what we must do."
Be a part of the solution. Help mitigate the crisis.