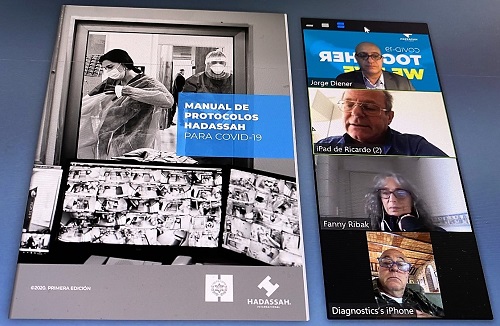 In an act of compassion from half a world away, Hadassah is reaching out from Jerusalem to share the COVID-19 expertise of the Hadassah Hospitals with every facility that cares for the vulnerable elderly Jewish population of South America.
Friday, May 8, 2020
Around the world facilities and institutions that care for the elderly have been hit very hard by the coronavirus pandemic, experiencing a very high percentage of COVID-19 fatalities in this institutionalized frail population with preexisting conditions.
The Jewish communities of South America have established five institutions that care for their most vulnerable older population. By sharing the Hadassah Manual of Protocols for COVID-19, Hadassah International is building a bridge across the oceans from the Hadassah Hospitals in Jerusalem, helping each community to fight the COVID-19 in its midst. This manual is a collection of guidelines and protocols developed by the internationally acclaimed experts at the Hadassah Medical Organization (HMO) in Jerusalem.
In several video conference calls this week, Hadassah International's outreach was welcomed with open arms, and the manual was gratefully received by the following institutions:
Hadassah International will also be reaching out to the Jewish Community of Santiago, Chile in the near future. The community first established the HOGAR ISRAELITA DE ANCIANOS, in 1951. Now called BEIT ISRAEL, the old age home has moved into a new modern facility to better serve its elderly residents. During the COVID-19 pandemic, it too faces crucial decisions on how to keep its population safe.
Hadassah is saving lives and mitigating the impact of the coronavirus around the globe as the pandemic continues to spread. Hadassah hopes that the Hadassah Manual of Protocols for COVID-19 will provide valuable information that can be used by administrators, doctors, and nurses in other affected parts of the world so they don't have to battle COVID-19 alone. Hadassah believes that sharing resources, experiences, and lessons is our only chance to win.
Read about the Hadassah International crisis response TOGETHER WE LIVE.
Press contact
Jorge Diener
Associate Director
Hadassah International
Mobile: +972-50-2569697
www.hadassah-international.org