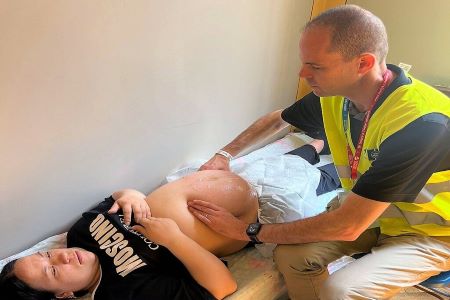 Translated and excerpted from May 17, 2022, Hebrew article on y net
At the clinic established by the Hadassah Medical Organization (HMO) for Ukrainian refugees in the Przemyśl Refugee Center on the Polish-Ukrainian border, the medical and nursing teams from Hadassah treat hundreds of patients every day. Recently, having quickly identified life-threatening pre-eclampsia, they were instrumental in facilitating the pregnant woman's successful birth of a beautiful baby girl.
Natasha Manilox was 41 weeks pregnant when she arrived at the clinic. "Natasha had been evacuated with her three children from her home in the Ukrainian city of Kherson," relates Dr. Doron Kabiri, a member of the HMO Medical Humanitarian Mission at the clinic and head of the High-Risk Pregnancy Clinic at Hadassah Hospital Ein Kerem. "She told us that the bombings over their home became massive. Suddenly, the threat to their lives was real and imminent."
For the past month, Natasha and her children moved from place to place. Her husband, like other young men, had to remain in Ukraine since his departure from the country was denied. Though she felt tired and unwell, her pregnancy was not being monitored, and she didn't have access to any medical treatment.
Dr. Kabiri notes, "Natasha knew something was very wrong. It was clear to her that she needed to be examined by a doctor, and she was very happy to hear that I was an expert in obstetric and gynecologic medicine. We connected quickly."
With the help of an ultrasound and various tests, Dr. Kabiri and his colleagues determined that Natasha was suffering from advanced pre-eclampsia, a very dangerous situation for both mother and baby. The condition, he explains, involves the contraction of blood vessels that, on the one hand, causes an increase in blood pressure and, on the other, leads to a decrease in blood flow to the placenta and the fetus. As a result, the growth of the fetus is impaired.
In the case of severe pre-eclampsia, which Natasha had, there is the risk of developing eclampsia, which can lead to seizures and loss of consciousness. In this situation, Dr. Kabiri emphasizes, a pregnant woman cannot be left without close supervision and immediate treatment.
"The diagnosis alarmed Natasha, and quite rightly so," says Dr. Kabiri. "But all of us on the Hadassah nursing and medical staff reassured and supported her until she was evacuated to a hospital in Poland for immediate delivery of the baby."
Dr. Kabiri later learned that Natasha successfully delivered a healthy baby. "The whole team here was very excited," he says. "For two months, a lot of patients have received excellent medical care in our clinic, accompanied by a lot of support and tender loving care, but Natasha's case touched us greatly. Diagnosing her critical condition saved her pregnancy. After so many difficulties and worries, the family is now happy and optimistic, enjoying their new baby."
You can read the Hebrew story here.