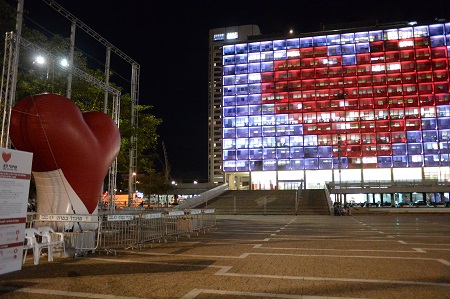 A poignant message from Dr. Donna Zfat-Zwas, director of the Hadassah Medical Center's Linda Joy Pollin Cardiovascular Wellness Center for Women
Dear Friends,
When women are experiencing a heart attack, they often hesitate to call for help. Lack of awareness of the signs interferes with getting to the hospital in time. In Israel, it takes the average woman 59 minutes longer than the average man to call for help when having a heart attack and 89 minutes longer to get to the emergency room.
Delayed intervention often translates into tragedy, as "time is muscle." In Israel, the mortality rate in women one month after an obstructive heart attack is 11 percent, as compared to only 3 percent in men. This discrepancy is greatest for younger women, who have up to five times the risk of bad outcomes following heart attacks as compared to men.
The Pollin Center has initiated many different programs to increase the awareness of heart disease among women in Israel. We have promoted heart health for women through radio and television appearances, campaigns on Facebook, community awareness events, and continuing education programs for medical professionals. Recently, I am proud to report, we have taken this mission to a whole new level.
Our communications team, led by Hana Gartenberg-Moskowitz, orchestrated a multi-level, week-long media extravaganza. We recruited celebrities, publicity professionals who work pro-bono, large and small companies, women's organizations, the Israel Heart Society, and all the other women's heart centers, all of whom worked tirelessly to promote awareness of heart disease in women. Each workplace sent its employees campaign material created by the Pollin Center. The information ranged from health tips and teasers to in-depth articles. Companies used assorted platforms to voice the urgency of recognizing and responding to gender-specific heart attack symptoms in women.
The City of Tel Aviv enabled us to put up a 20-foot balloon in Rabin Square, and we developed an app that inflated the balloon as our campaign received likes on Instagram and Facebook.
Through the celebrities alone, our message received 2.5 million exposures, and we are still calculating the additional exposure we received in workplaces throughout the country. These events were covered extensively in the on-line media, on radio and television, and in the print media. Our survey found that awareness among women of heart disease as a leading cause of death increased from 36 percent to 42 percent!
We see this as a major step forward in raising awareness of heart disease among women in Israel, and we look forward to building on this platform to reach more and more women throughout Israel.
The core message of this campaign is empowerment, helping women to recognize the symptoms, call for help, and save lives.
Marcel's Story 
For two years, Marcel Balaish had been experiencing chest pain that seemed to radiate from her stomach. Her doctors did not understand that the pain was a serious warning sign. Subsequently, Marcel suffered a massive heart attack. Listen to her story.
Read more about the Pollin Center's successful outreach initiatives in the Haredi and Arab communities.
Cardiovascular Health Literacy: A Hadassah Pollin Center Success Story
Heart-Healthy Cookbook for Haredi Women Created by Hadassah's Pollin Center
Overcoming Internal Barriers to Healthy Living Through Group Coaching
Arab-Sector Grads Mark Completion of Hadassah Healthy Lifestyle Leadership Course
Hadassah's Pollin Center Health Ambassadors Bring Change to Israeli Workplaces
Hadassah's Pollin Center Program Results in Lifestyle Transformation for Arab Health Educator