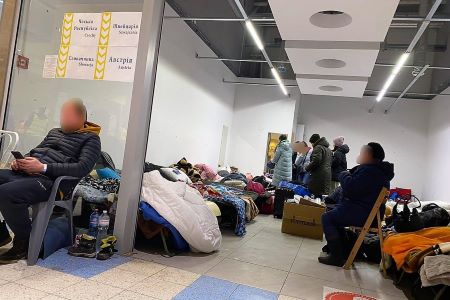 Elena fled Ukraine for safety in Poland, along with her 13-year-old twins and her 15-year-old son, Daniel, who has non-verbal autism. She says that they fled their home city of Kharkiv "at the last moment."
Now living at the refugee center in Przemyśl, Elena has no idea where she and her children will go next. They have no acquaintances or friends in Europe. Their goal for the near future is simply to calm down and stabilize Daniel, who is wildly stressed, having no understanding of their situation.
Having injured her finger while traveling on the very dirty train to Poland, Elena sought aid at the First Aid Help Center, where the Hadassah Medical Organization (HMO) humanitarian mission physicians are working. Her finger had become inflamed and infected.
Elena also had to solve another problem: changing Daniel's diaper and dressing him. Though the refugee center provides any needed supplies, she was not able to bring Daniel into the women's toilet facility (because Daniel is a young man) or send him into the men's facility because he is unable to perform these tasks for himself.
The Hadassah International (HI) staff, which accompanied the Hadassah doctors on this humanitarian medical mission to Poland, screened off a place for Elena and her son at the help center. HI volunteer, Ira Diener helped Elena change Daniel's diaper, wipe him with wet wipes, and put on new underwear and trousers since his jeans had already been wet for several hours. On the train, Elena did not have the opportunity to do these things.
Now dressed in a new diaper and clean clothes, Daniel was able to calm down. Mrs. Diener notes, "As I walked around the center, I saw a few families with autistic young adults. They suffer a lot. It is heartbreaking."
–from a Hadassah International blog, sent from the Refugee Center in Przemyśl, Poland.
Hadassah International (HI) has assumed a major role in the Hadassah Medical Organization's (HMO) humanitarian mission in Poland. In an ongoing effort to build strategic partnerships, HI built a coalition that includes the Polish Red Cross, the World Health Organization, NATAN Worldwide Disaster Relief, and the Polish health authorities. It has also engaged Polish foundations and individuals in financially supporting HMO's humanitarian mission. The HI team has been responsible for organizing the logistics and administration of this medical operation–taking the HMO doctors wherever they need to go and making sure that they have what they need to take care of the patients, as well as ensuring their safety and well-being. They also converse with the refugees that come to the HMO doctors for medical care, provide emotional support, and record their stories, while the HMO experts take care of their medical needs.