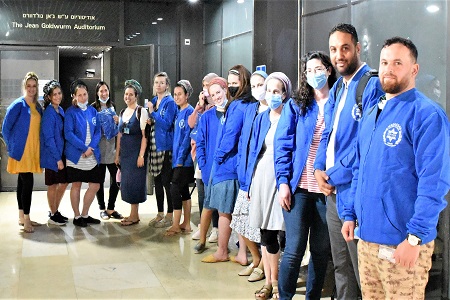 Poised to begin caring for premature babies to geriatric patients, 20 new nurses joined the staff at Hadassah Hospital Ein Kerem last week.
Some of the nurses are young people straight out of nursing school, some have worked as nurses elsewhere and others have become nurses in later life.
"There are always nerves when starting in a new place, but I can already tell it's going to be good here," says Hanadi from northern Israel. Hanadi had worked in a large hospital in the center of the country, "but it just wasn't friendly," she says.
Having been a nurse in cardiothoracic care, Hanadi is now on the neurosurgery nursing staff. One of her colleagues is Yitzhak, who is new to nursing, having left a teaching career behind. It's a year of change for him. He also married six months ago. Neurosurgery was Yitzhak's first choice, ever since his father was hospitalized in the department while he was a student nurse at Hadassah.
Hanadi and Yitzhak are now participating in an orientation week with the other new recruits. They are touring the Ein Kerem campus, learning the dos and don'ts of their jobs, and discovering the many benefits available to Hadassah employees, such as help with medical care, living accommodations, kindergarten costs, and more.
During a break in their orientation, hospital staff presented the nurses with their distinctive blue-zipped sweatshirts, a gift funded by Hadassah, The Women's Zionist Organization of America.
"I am so happy that I was selected for neurosurgery," says Hanadi, as she tries on a sweatshirt for size. "I will gain so much knowledge from this experience and, after all, Hadassah is Hadassah. We all know this is the best brand."