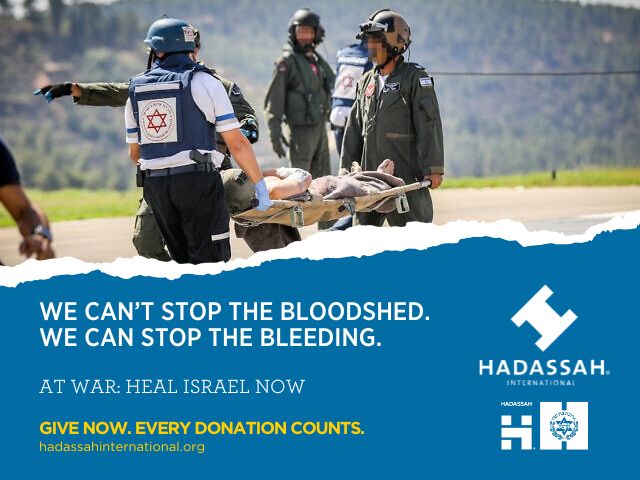 Israel under fire. Unspeakable atrocities. Unprecedented devastation. Now, as Operation Swords of Iron rages, Hadassah is here to help heal the people of Israel.
No one was prepared for this. We need resources.
DONATE TO SAVE LIVES
WIRE TRANSFER: Email Sandra Diaz at intlcommunications@hadassah.org with your phone number and she will get back to you as soon as possible. 
Message from Hadassah Medical Organization (HMO) Director General, Prof. Yoram Weiss (update of Oct 24)
In the early hours of October 7, Moshe and Diana Rozen, an elderly couple from a kibbutz just miles from the Gaza border, were violently abducted and forced into hostile territory. Despite severe injuries, their resolve was unyielding as they refused to comply with their Hamas captors, ultimately leading to their release. Their arduous journey culminated at the Hadassah Medical Organization (HMO), where they took their first steps toward recovery. HMO is a sanctuary of healing and has the unique expertise to deliver specialized critical care as well as trauma and mental health services to the many wounded in the conflict.
Your generous donations have facilitated the provision of urgent medical care and enabled our hospitals to establish new emergency facilities in a matter of days in preparation for an influx of patients. These underground areas are meticulously engineered to operate under the most extreme conditions.
As we look ahead, there will be a dire need for comprehensive rehabilitation services for the thousands injured in this war. We have therefore accelerated efforts to complete construction of the Gandel Rehabilitation Center at HMO's Mount Scopus campus, poised to quadruple our capacity to treat rehabilitation patients holistically and in a state-of-the-art facility.
Additionally, this past week, HMO hosted President Isaac Herzog and First Lady Michal Herzog, alongside a delegation from the Conference of Presidents of Major American Jewish Organizations, which visited Hadassah Hospital Ein Kerem as part of its emergency solidarity mission. Hadassah National President Rhoda Smolow and CEO Naomi Adler represented Hadassah among more than 50 leaders of Jewish organizations and philanthropists.
Hadassah offers a beacon of hope amid a landscape marred by turmoil. Your support remains our stronghold as we continue delivering lifesaving and mental health services to those severely affected by the ongoing war. We need your support today, so please give now.
Thank you for standing with Israel. Thank you for standing with Hadassah.
LIVEBLOG
Update of Nov 21, 2023:
Over 290 total wounded admitted | 20 in Rehabilitation (13 inpatients & 7 outpatients)
October 18, 2023
The Israeli Guide Dogs Association recently paid a heartwarming visit to Hadassah Medical Center, bringing along their trainee dogs destined to become guide dogs. While they await their important roles, these furry companions did an amazing job spreading joy among the injured and hospitalized, leaving smiles on the faces of all who crossed their path.
October 16, 2023
|
Israel President Isaac Herzog visited Hadassah – Oct 16, 2023
"We completed a long visit at Hadassah in Jerusalem. Visiting soldiers, visiting citizens who were badly wounded, injured and many of them were just on the verge of death.
The holy work done by Hadassah is incredible. The team, the management and of course, the doctors and the entire medical team is unbelievable! The results are outstanding! The reaction of the families and the patients is overwhelming.
I'm blessing and congratulating Hadassah and the entire medical system in Israel, and I call upon all supporters of Hadassah; Now is the time to support Hadassah in Israel, now is the time to support Israel as we are under a horrific attack by a vulturous terrorist organisation which has caused and inflicted enormous pain on the State of Israel and its citizens.
But we shall overcome! We shall overcome as a Nation, and we shall overcome because of our supporters worldwide.
Thank you very much."
From left, Suzanne Patt Benvenisti Executive Director Hadassah Offices in Israel, HMO Board Chair Dalia Itzik, Israel President Isaac Herzog, HMO Director General Prof. Yoram Weiss in the Sarah Wetsman Davidson Hospital Tower, Hadassah Ein Kerem
October 15, 2023
|
"Moshe and Diana Rosen, injured by gunfire, were dragged by 5 terrorists across boundary, but then declared they would not go any further; captors eventually told them to turn back" (from an interview in Times of Israel on Oct 12)
They have been treated at Hadassah Hospital Mount Scopus and they are calling on you to donate to Hadassah.
Video in Spanish with English Subtitles 
|
"First I called my friend at Hadassah Hospital, who put me in touch with a trauma doctor and he explained to us how to treat Erez: Bring him a lot of sugar and water and lift his legs because he lost a lot of blood," said Yifat.
Acts of Courage: Amid Horror, Israelis Rise to Occasion:
|
Interview of Prof. Rami Mosheiff, head of Hadassah's orthopedic department – Published in "Mako"
Between running to another surgery and another urgent meeting, the head of Hadassah's Orthopedic Department found a few moments to tell us about the unusual days, the burden and difficulties, alongside hope. "These are the times when you can see the beautiful people of Israel at their best. The wounded soldiers are also already waiting for the day when they can return to their units."
|
CNN Speaks with Kibbutz Hero Baruch Cohen at Hadassah Medical Organization.
October 14, 2023
|
Hadassah is taking all the necessary steps for the safety of the patients.
Hadassah is increasing inventory and infrastructure with medical equipment and an additional 200 beds. Patients are being moved to the safe areas in the underground hospital.
October 13, 2023
|
An IDF Soldier who was seriously injured and hospitalized in Hadassah Ein Kerem asked to go to the funeral of his friend in the unit. The medical team enlisted to fill out the application, and took care of all the equipment to allow the injured to accompany his friend on his final journey
October 12, 2023
|
Prof. Alon Pikarski, Head of General Surgery, Hadassah Hospital Ein Kerem
"We received a patient that came with no pulse, he was clinically dead. I took this patient into surgery. The operation lasted 2-3 hours, we managed to stabilize him. That was Monday. On Wednesday we operated on him again. And we have done a third operation. He is still in critical care. He's a young 20-year-old Muslim man who was praying in the mosque when the rocket from Gaza hit it. We pray that he will pull through."
|
Prof. Yoram Weiss, Director General, Hadassah Medical Organization
"Our teams, over the past week, have worked diligently to assist all those who are wounded to provide them with the top notch care. But as we were treating the 100 patients we need to prepare ourselves for the next phase to come. Our teams are dealing with remarkable injuries in the chest, stomach, head etc. We are putting an infrastructure in place where if we need to move from the hospital to underground we can."
|
"We will not stop under any circumstances."
Even when sirens were blaring, the team of the Brain Cell unit in Hadassah Ein Kerem continued to undertake urgent life-saving care of a soldier who was injured in the south of Israel.
Warning: You will hear a siren in the video.
|
INTERVIEW
Rhoda Smolow, National President of Hadassah, The Women's Zionist Organization of America, shares Hadassah's efforts in Israel treating soldiers and civilians who have been critically wounded in the terror attacks.
"She [war victim and Hadassah patient Michal Ohana] was shot in her legs. I was there with her and her family, she was actually smiling which was amazing. and she said, 'I'm alive and I will be okay'. We don't know what the damages to her legs will end up being. She'll need a lot of physical rehabilitation.
All of these patients in the hospital, no matter whether they be civilian or military, they are traumatized. They are going to need PTSD services, psychological services, physical rehab, so many things after this and that includes all the citizens of Israel. This is the most traumatizing experience.
Hadassah is a humanitarian organization and our hospitals need the support, so much more medical care is needed."
———-
October 11, 2023
|
INTERVIEW FOX5 NY: Rhoda Smolow, National President, Hadassah, The Women's Zionist Organization of America
|
Senior social worker Anat Hercz helped the father of a soldier shot through the jaw to process seeing his son post-surgery with a tube in his throat assisting his breathing.
"We're dealing with so many new situations," says Hercz, "like the families showing up at Hadassah Ein Kerem looking for their missing loved ones. It's their last hope, and in many cases, they are going to get the answer they are not willing to hear."
There are some 60 social workers spread across both campuses of the Hadassah Medical Organization. Some of their regular work was put aside as they dealt with the dozens of wounded brought to Jerusalem from southern Israel following the Hamas invasion.
Full story:
|
Prof. Rami Moshiev, Director of the Orthopedic Department at Hadassah Hospital Ein Kerem:
"It should be noted that in parallel to treating the wounded, the hospital continues to treat routine daily cases as well, but we are able to receive more and more patients and are preparing for the continuation of the fighting days. Happily, these are the times when you can see the beautiful nation of Israel at its best. People come to us asking to donate blood non-stop, the medical staff is mobilized for any matter at unusual hours and the wounded soldiers are also already waiting for the day when they can return to their units."
Full interview (in Hebrew):
|
Naomi Adler, CEO of Hadassah, The Women's Zionist Organization of America:
"A trauma center in Jerusalem that's owned by the organization is treating wounded Israeli soldiers and civilians. About 90% of the patients in the center right now are soldiers, who are typically the first to be brought in for traumatic injuries, Adler said. But the center also accepts anyone who's wounded or injured in the country."
|
Dr Shlomo Gensler – Video interview with NBC News
"Hadassah Hospital has been accepting a great amount of patients from the south… This hospital really manned up and is really helping a lot of people."
|
Michal Ohana,  27 year old victim, patient at Hadassah.
"What people see abroad is not what's happening here. As I see it, the media shows a few people killed in Gaza, the number of injured and the children. They don't really know what is happening in Israel. All we wanted to do was to have fun at a party and I lost most of my friends."
Full interview (viewer discretion advised):
———-
October 10, 2023
|
Survivors From the South: Victims of Hamas' Terror Speak From Hadassah Ein Kerem Hospital
(viewer discretion advised)
———-
October 09, 2023
|
In Jerusalem, Hadassah National President Rhoda Smolow Visits War Patients
The scope and scale of the injuries and destruction is devastating, with every Israeli family impacted in some way — and many American families praying for loved ones in Israel. On Sunday, Hadassah National President Rhoda Smolow met with patients at Hadassah Hospital Ein Kerem, where many of the worst trauma cases are being sent. One IDF soldier she visited with — from Houston — was shot in the face. He had already had three surgeries when Rhoda stopped by his bedside, soon after bringing comfort to another solider and his mother, who thanked Hadassah for saving her son, too.
|
Health Minister Visits Hadassah's Wounded
Israeli Health Minister Moshe Arbel visited Hadassah Hospital Ein Kerem this morning, accompanied by Hadassah Medical Organization Director General Prof. Yoram Weiss. The minister spoke with the medical team and thanked them for their dedication. He also spoke with families of the wounded brought to the hospital from southern Israel.
The minister heard from the team about the activity at Hadassah in the operating rooms, intensive care units and other departments. Prof. Weiss emphasized that the hospital is prepared and ready to receive additional wounded as needed.
|
18:00 PM
Beitar Illit and Abu Ghosh Victims at Hadassah Hospital
Numerous rockets were fired toward Jerusalem this afternoon. One landed in the town of Beitar Illit, injuring several people, including children. Hadassah is treating six of the wounded:
A man in serious condition with an abdominal injury. He was immediately taken to the operating room while being resuscitated.

An 11-year-old boy with a shrapnel injury, conscious and moderately wounded

A woman, 56, in moderate condition

A 6-year-old boy, lightly injured

A man and woman, also lightly injured
Hadassah doctors are currently operating on a man who was seriously injured in his stomach when a rocket landed in Abu Ghosh, a town just west of Jerusalem.
|
14:30 PM
Patient Story : American-born soldier from Houston was lying in a hospital in Israel, with no family nearby, after being shot in the face during the attack.
Rhoda Smolow, the president of the women's Zionist group Hadassah, is keeping the soldier company at Hadassah Medical Center until his family could be by his side. "He is on a tracheotomy, so we couldn't speak, and apparently, according to the caregivers there, the nurses and the doctors, they felt he is very traumatized," she said, declining to share his name for privacy reasons. "We felt so terribly that he was in the room alone without anyone."  Smolow said she told the soldier Hadassah would make sure he received the best care possible. "He gave me a thumbs up," she said. The hospital and the army were having trouble tracking down his family. His cousin came to Hadassah and found him.  
|
14:00 PM
Hadassah's Emergency Center for Trauma Victims has been established.
It is currently operating four hours a day and staffed by psychologists and psychiatrists. The Center specializes in anxiety and post-trauma treatment and is serving anyone in need: Hadassah staff as well as the public – and families from the Gaza parameter. One does not need any specific referral to receive treatment. The Center has already engaged communities near Gaza with interventions with families that have been transferred to Kibbutz Almog. They hosted a webinar last night that was capped with 300 participants for families from the Gaza parameter and another Zoom meeting is planned for tonight. An Arabic-language webinar for caregivers from the Arab population is also planned for in the coming days.
|
13:30 PM
Total number of wounded that have been treated at Hadassah: 79 patients
Most wounded patients arrived by helicopter and needed surgery. Some will need additional surgeries.
So far the total number of wounded treated at Hadassah Ein Kerem is 65. At present there are 50 patients. The majority of them are in serious condition in the surgery, orthopedics, ICU and neurosurgery departments.
Hadassah Mount Scopus has received a total of 14 wounded patients, primarily with mild injuries.
|
12:30
Patient story: From Celebration to Chaos: Michal Ohana's Harrowing Story of Survival at Hadassah Ein Kerem.
In a harrowing account of survival, 27-year-old Michal Ohana, a resident of Portugal, arrived in Israel to celebrate her nephew's birth at Hadassah Ein Kerem Hospital in Jerusalem. However, her joyous visit took a tragic turn when she found herself caught in the Hamas shooting spree during the music festival near Kibbutz Bari on Shabbat.
|
12:00 PM
Sirens over Jerusalem and the hospital. Patients rushed in the bomb shelters and safe rooms.
———-
October 08, 2023
|
09:30 AM
58 casualties are being treated at Hadassah hospitals, of whom 30 are in serious condition. Tragically, two people were pronounced dead yesterday at the hospital.